Leadership Consultations & Workshops
Leadership Consultations
Leadership consultations are a great way to learn more about available opportunities for leadership development at Clemson! Sign up to meet with a staff member from the Center for Student Leadership and Engagement to discuss ways to connect with programs, events, opportunities, or learning materials to strengthen your leadership abilities. Consultations are also an opportunity to receive feedback on leadership or change initiatives you or your student group are developing for academic coursework or community endeavors.
Sign up for a consultation using our request form.
Leadership Workshops
Leadership Workshops are a great way to become successful by growing in specific areas of leadership. Our workshops are designed to be interactive, engaging, and developmental for all students, groups, and student organizations. Program requests must be submitted at least 14 days before the desired program date.
Request a leadership work using our request form.
Reach out to Christopher Spellman with any questions!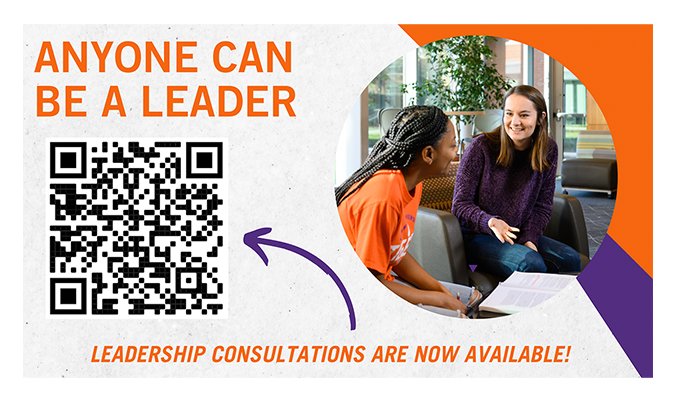 Center for Student Leadership and Engagement
Center for Student Leadership and Engagement | 300 Sirrine Hall, 515 Calhoun Dr, Clemson, SC 29634