About Fraternity and Sorority Life
Welcome to Clemson University!
Congratulations on being accepted to one of the best institutions in the world. The time you spend at Clemson will be exciting, filled with new experiences, friends, information, knowledge and more. All aspects of your life can be enhanced if you set yourself up to make the most of the time you have here. Becoming a member of Clemson's fraternity and sorority community is a fantastic way to make new friends, develop leadership skills, serve the community, get involved on campus and enhance your academic potential.
Mission

The Office of Fraternity and Sorority Life (FSL) offers the fraternity and sorority community support that emphasizes the importance of social responsibility, academic excellence, and leadership through open communication, needs-based advising, and direct interaction with organization members and advisers. We believe in the power of values-based fraternities and sororities to create positive change.

 

Vision

Clemson's fraternities and sororities will be leaders in providing innovative and collaborative growth for the campus and community. We will provide a model of unity and diversity for Clemson students. Our consistent drive for excellence will exceed expectations and bring recognition to members, organizations and Clemson University.

Our fraternity and sorority organizations are very involved in serving both the campus and the community. Clemson fraternity and sorority members volunteer with local foster children, animal shelters and voter registration drives — just to name a few. In addition to the extensive community service that Clemson fraternity and sorority members participate in (averaging over 20 hours a member for many chapters), each chapter also sponsors various philanthropic events to raise money for some amazing causes. Some of these events include a flag football tournament, a skeet shoot and Chili Cook Off.

Because of our rich history on campus and integral involvement, Fraternity and Sorority Life is represented in numerous student organizations and for many, is an integral part of the Clemson Experience. Members of our community are active in the tour guide association, FCA, Student Alumni Council, student government and various honor societies, clubs and organizations. Currently, both the student body president and vice president are active members of Clemson's Fraternity and Sorority Life community.

The best thing about Fraternity and Sorority Life at Clemson is that it is possible to lead a rich social life with active campus involvement and still excel academically. As students at a prestigious university, Clemson Greeks continue to set the academic bar, consistently earning a higher average grade point average than unaffiliated students. By becoming a member of Fraternity and Sorority Life, students receive extensive academic resources including private study spaces sponsored by the Greek honor society Order of Omega and individualized study help from academic leaders within the individual chapters.

We encourage you to check us out during Orientation and our Fraternity and Sorority Life Guide (download pdf), ask lots of questions and explore membership in a fraternity or sorority. This guide to Fraternity and Sorority Life is merely an introduction to what we have to offer. We encourage you to share this information with your family, discuss the responsibilities and explore the incredible benefits available to you.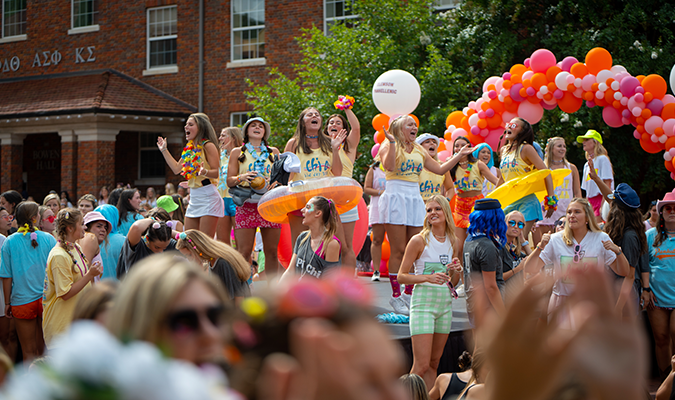 Fraternity and Sorority Life
Fraternity and Sorority Life | 100 Norris Hall Clemson, SC 29634