When a student chooses to join a fraternity or sorority, they will join a chapter, and each chapter is governed by one council. At Clemson, there are four councils each with a unique recruitment process. Students interested in participating in an Interfraternity Council fraternity or a Clemson Panhellenic Association sorority must complete the online registration process, which can be found on the specific council's website. These students must also attend a recruitment orientation meeting that occurs the week of the recruitment process. Students interested in a National Pan-Hellenic Council fraternity or sorority or a Multicultural Greek Council fraternity or sorority must also attend an orientation meeting hosted by these specific councils. For information and updates, you can check the council websites and Instagram pages. Questions or concerns? Contact the Fraternity and Sorority Life Office, 864-656-7578.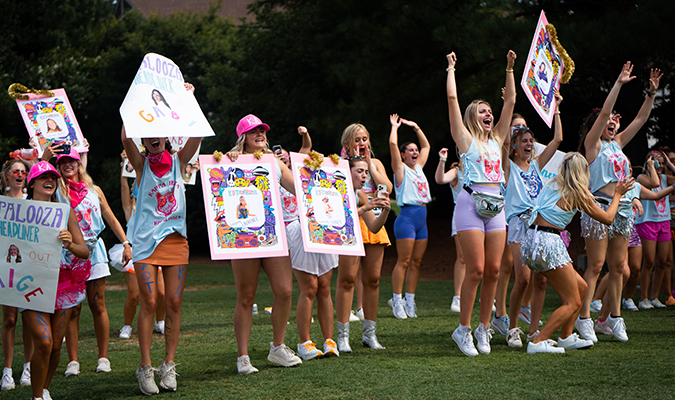 Why Join?

Leadership and Academics
Clemson University's IFC fraternity community is dedicated to building future leaders by providing numerous leadership opportunities. IFC men can be found in leadership positions across a variety of Clemson University student organizations and academic research departments. The IFC fraternities at Clemson University realize that excelling in academics must be the top priority for all students. The fraternity and sorority community consistently finishes at or above the University average. IFC fraternity life offers a wide variety of academic advantages, including discounted testing services for professional school entrance exams (GRE, LSAT, MCAT) as well as various academic requirements required to be an active member geared at keeping members successful in the classroom.

Brotherhood and Community Service
IFC fraternities were founded as a network of support for men who were going through a similar experience. An IFC fraternity is a great way to enhance the general college experience through brotherhood and friendship. One of the founding principles of each IFC fraternity is service to the community. During the 2022 calendar year, over $331,000 was raised for various philanthropic efforts and over 19,000 hours were provided to various community service efforts in the Upstate community.

Social Life
IFC fraternities stay busy with Homecoming, alumni weekends, Parents Weekend, formals and Greek Week. Social events give IFC fraternity men an opportunity to meet new and exciting people while building lifelong friendships. The social experience is an important part of the fraternal experience and chapters prioritize providing safe environments for these experiences.

Athletics
Intramurals are another exciting aspect of IFC fraternity life. Intramural activities are open to all students, but it is not uncommon for chapters to support multiple teams throughout the various tournaments hosted on campus. Athletics prove to be important physical and mental outlets for students, helping improve self-confidence and develop teamwork. Through intense competition, intramurals continue to help build brotherhood and school spirit.

What is Recruitment?

Also known as Rush, Rush at Clemson University is intended to give interested individuals an opportunity to explore the vast array of IFC fraternities that differ in ideals, goals, chapter men and approach to fraternity life. Although all IFC fraternities may have the same general framework for success, each chapter offers unique experiences that all members to find the best environment for them to thrive and find success.

Things to Know

For Fall 2023
It is planned that IFC Rush will be an in-person event. The only exception will be the date of Bid Distribution. Bids will be distributed in-person. More information regarding bid distribution will be shared during the Rush process.

Pre-Rush Education
Pre-Rush Education is mandatory for all Clemson students wishing to join an IFC Fraternity. IF YOU DO NOT COMPLETE THE PRE-RUSH REQUIREMENTS BY THE APPROPRIATE TIME, YOU WILL BE REMOVED FROM RUSH. There are two parts to Pre-Rush Education: an online Anti-Hazing module and the IFC Rush Orientation. Missing even one session will make you ineligible to join a chapter. *Note: If you completed the requirements in a previous semester, you do not need to complete them again.

Recognizing the importance of academic scholarship at Clemson University, the IFC fraternities and IFC Executive Council require that continuing Clemson students have at least a 2.7 cumulative Clemson GPA. For transfer and first-year students without a Clemson GPA, there is not a requirement and you will be eligible as long as you complete the Pre-Rush Requirements.
CPA Sorority Recruitment
Registration for 2023 Fall Recruitment will be open June 25th - August 1st. New students going through recruitment will move on-campus August 15th. Recruitment Dates: August 16th - 22nd.
Please visit Clemson Panhellenic Association website for all recruitment information.
National Pan-Hellenic Council Intake
If you are interested in joining a National Pan-Hellenic Council (NPHC) fraternity/sorority, please attend the NPHC Orientation on Sunday, September 10, 2023 in the Hendrix Center Ballroom at 12noon. This orientation session will provide an overview of the NPHC Organizations on Clemson's campus and provide an opportunity to interact with current members. Attending NPHC Orientation is required once during a student's college career prior to pursuing membership in an NPHC Fraternity/Sorority. NPHC Orientation is offered during both the fall and spring semesters. Learn more about NPHC at Clemson by going to their website: www.nphcclemson.com
Things to Know

Each NPHC fraternity and sorority brings in new members at various times of the year through a process called Membership Intake. These organizations are permitted to conduct intake based on the chapters schedule and/or their need for growth. Some organizations conduct intake each semester; others only do so once a year.

There is a 2.7 Clemson cumulative GPA requirement to seek membership in a NPHC Fraternity or Sorority. All NPHC fraternities and sororities also require a certain amount of credit hours prior to joining varying from 12 - 36 credit hours as determined by the fraternity or sorority's (Inter)National office. When organizations are planning to conduct Membership Intake, many of them will host an interest meeting in which the criteria for membership is explained. These are usually publicized via flyers on-campus and on individual chapters social media pages.
Multicultural Greek Council Recruitment
If you are interested in joining a Multicultural Greek Council fraternity/sorority, check out the MGC website: www.clemsonmgc.org to learn about opportunities to engage with the different organizations. MGC will host a Meet the MGC event on August 31st at 6:00pm in the Hendrix Center Ballroom. Currently, attending orientation is not required to join a MGC fraternity or sorority.
Some MGC organizations host a week of recruitment events to allow interested students to learn more while others host informational/interest sessions for interested students. Each organization is able to decide when is the best time to bring new members into the fraternity or sorority.
Why Join?

Network
MGC organizations create an environment in which all individuals from all walks of life can engage in productive conversations and encourage members to connect with individuals for their career path.

Unity
MGC strives to promote unity between organizations in addition to promoting unity across different councils through collaboration. We emphasize a sense of family and create a welcoming environment in which our members feel like they belong.

Diversity
as a MGC our main emphasis is focused on promoting cultural awareness across a range of different heritages. We embrace and are proud of the different organizations within our council that enhance the Clemson community.

Community Service
Our members give back to the community by fundraising for their respective philanthropies and volunteering. They inspire others and emphasize support for others in need.

Professional Development
organizations in the MGC develop future leaders and individuals who strive for academic excellence. Our members help create educational programs for the public, in addition to learning tools and skills necessary to excel in their career path and their daily lives.

Things to Know

All interested individuals must have at least a 2.7 GPA to join an MGC organization.

Joining an organization under the MGC requires your own research and personal experience. The decision of joining an organization should be your own to make.

Be yourself and express yourself, our members want to get to know who you are. We welcome everyone with open arms and open minds.

If you are affiliated with another organization and plan to join a MGC organization, you can only be a part of a business, honors, service or music fraternity/sorority.
Fraternity and Sorority Life
Fraternity and Sorority Life | 100 Norris Hall Clemson, SC 29634