Henrique Houayek, Ph.D.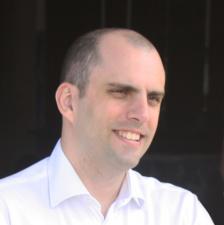 Professor in Residence / Lecturer
Contact
School of Architecture
Office: Charles E. Daniel Center
Email: hde@clemson.edu

Education
Ph.D. Planning Design & the Built Environment, Clemson University (2009)
Henrique Houayek is a practicing architect in his home country of Brazil with a Ph.D. in Planning, Design and the Built Environment from Clemson University.
With theoretical and practical work knowledge in architecture design and theory, urban design, and sustainability Henrique's doctoral thesis investigated the connections between architecture, robotics and human factor psychology. Working in collaboration with a multidisciplinary team exploring possibilities for real time interaction between people and their architecture environment. His doctoral thesis was later published as a book entitled: The Animated Working Environment: A vision for working life in a digital society.
Furthermore Henrique served for two years as the professor in residence for Clemson's Genoa study abroad program responsible for the program organization, architecture studio, and classes in urban studies, and architecture representation.
Between 2012 to 2016 Henrique went back to his home country of Brazil to work professionally at the Rio 2016 Olympic masterplan project and some of its venues, during this time, period he was responsible for a series of Olympic projects as well as large scale projects in Brazil, USA, Colombia, and Japan. While in Brazil also Henrique served as adjunct Professor for PUC-RJ Architecture University.
His work and teaching methodology explores compositional processes that bridge the gap between theory and practice in search of creative solutions for the built environment.
Other research interests include: New technologies, creativity, digital fabrication, graphic arts, hand drawing and history and theory of architecture.
College of Architecture, Arts and Humanities
College of Architecture, Arts and Humanities | 108 Strode Tower, Clemson, SC 29634