Tiger's Rein is an intensive three-day riding camp specifically for western riders that introduces high school equestrians to the IHSA (Intercollegiate Horse Show Association) collegiate riding format. Campers ride Clemson Equestrian Team horses under the instruction of our equestrian team coach. Outside of the ring, campers will attend educational workshops and participate in fun activities while forming new friendships.
Date: June 7th-9th
Location
Clemson University Equine Center, 815 W Queen St, Pendleton SC.
Cost
Camp tuition is $400, due at time of registration.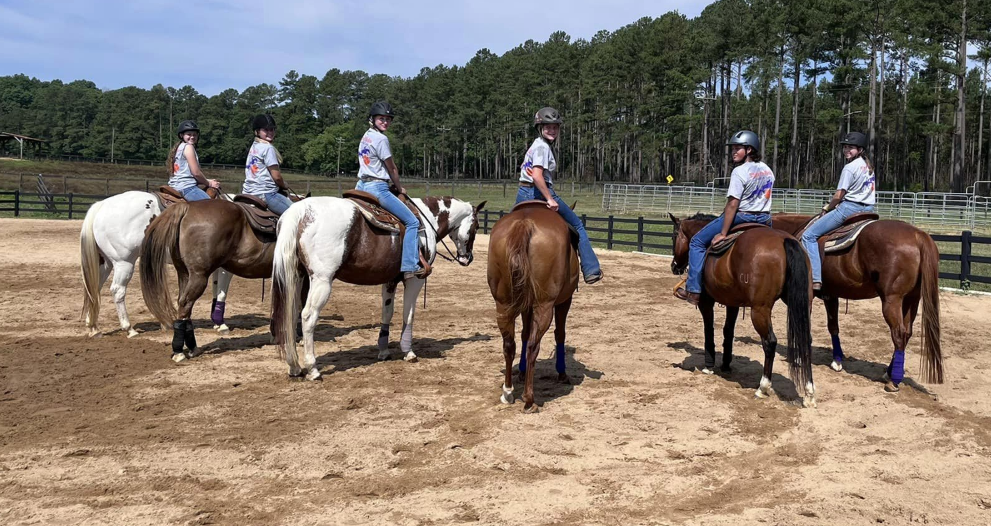 About our Coach
Vicki Merck began her riding career at a young age on a family horse farm in Oklahoma. When she moved to South Carolina shortly after, she began showing in both western pleasure and hunt seat events at local 4H and open shows. After graduating from the University of South Carolina, Vicki went to work for an AQHA all-around training farm, where she achieved significant success including a 4th place in the Western Riding at the All American Quarter Horse Congress.
Vicki went on to become the head trainer for Storey Quarter Horses in Alabama, where she managed their breeding, showing, and training programs, which focused on the AQHA and NRHA circuits and eventually, reining horses. During her time with the Storeys, Vicki qualified many horses for the AQHA World Show and coached several amateurs to world titles.
Making the decision to slow down from the busy world of horse showing, Vicki moved back to Seneca, SC with her husband and son. She began assisting Susan White in the coaching of the western team in the fall of 2019, and took over as coach the following year.
Tentative Itinerary
Friday
1:30-2:00 PM Arrive and Welcome
2:00-3:00 PM Farm tour & Orientation; *Parents are welcome to join!
3:00 PM Parents depart; First group prepares to ride3:30-5:00 PM Group A riding session; Group B audit session
5:00-6:00 PM Group B riding session; Group A audit session
6:00-6:30 PM Untack and put away horses
6:30-7:30 PM Dinner & S'mores Bonfire
7:30 PM Campers picked up by parents
Saturday
7:30-8:00 AM Campers arrive
8:00 AM Prepare to ride
8:30-9:30 AM Group B riding session; Group A audit session
10:30 AM Untack and put horses away
11:00-12:30 PM Educational Talk & Demonstration
12:30-1:00 PM Lunch served
1:00-3:30 PM Afternoon activities
3:30-4:00 PM Prepare to ride
4:00-5:00 PM Group B riding session; Group A audit
5:00-6:00 PM Group A riding session; Group B audit
6:00-6:30 PM Untack & put away horses
6:30 PM Campers picked up by parents
Sunday
7:00-7:30 AM Campers dropped off by parents
7:30-8:30 AM Breakfast & Educational Talk 
8:30 AM Prepare to ride
9:00-10:30 AM  Group A riding session; Group B audit
10:30-12:00 PM Group B riding session; Group A audit
12:00-12:30 Untack & put away horses
12:30 PM Campers picked up by parents; End of camp certificates presented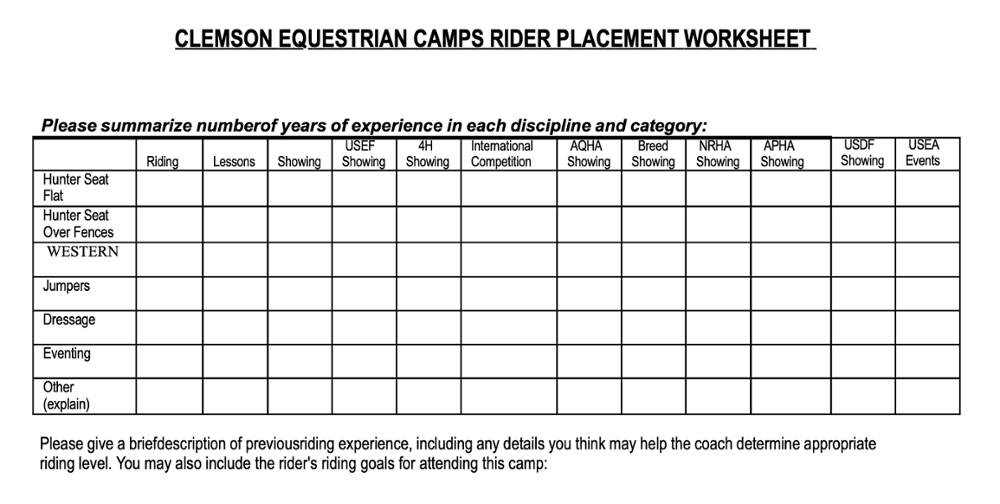 What to Bring to Camp
Important Items to Remember:
Riding clothes (see below)
Sunscreen
Insect repellent
Water bottle
Riding Apparel: All campers should ride in neat and professional-looking apparel. Fitted shirts, polo shirts, or other fitted riding tops are preferred (sleeveless polos are fine, but no tank tops). Shirts should be worn tucked into jeans. Riders must wear appropriate riding boots with a heel and provide a properly fitting personally owned helmet that meets ASTM/SEI standards.
General Apparel: If desired, riders may bring tennis shoes to change into for unmounted activities. No sandals or open-toed shoes are allowed at the farm. Riders should bring a sweatshirt or light jacket for cool mornings or evenings, as well rain jacket in case of inclement weather. Riders may wish to bring a ball cap or other sun hat for unmounted activities.
Please do not wear large or excessive jewelry. Clothes with holes, shorts, wide-leg pants, halter tops or tank tops and other unsuitable clothes are not permitted.
Food and Snacks: Campers will be served dinner on Friday, lunch on Saturday, and breakfast on Sunday. Snacks and drinks will also be provided between meals. Campers may bring snacks from home if desired, as long as these don't require refrigeration.
Campers with food allergies or special dietary needs should let camp personnel know by May 1 so arrangements can be made.
Transportation and Lodging
Transportation
Tiger's Rein follows a day camp format. Parents are responsible for providing transportation to and from the Equine Center each day unless campers are old enough and have permission to drive themselves. Riders will be given a copy of the itinerary ahead of time and are requested to arrive promptly at the assigned times each morning.
Where to Stay in Clemson
If you are coming from out of town, we are located about 10 minutes from the main
Clemson campus. Our address is:
Clemson University Equine Center
815 W Queen Street
Pendleton, SC 29670
Hotels: There are a number of hotels located just minutes from the Equine Center. Some options include:
Courtyard Marriott Clemson, 201 Canoy Lane
The Inn at Clemson, 1303 Tiger Blvd
Comfort Inn & Suites, 1301 Tiger Blvd
Hampton Inn Clemson, 851 Tiger Blvd
Holiday Inn Express & Suites, 1381 Tiger Blvd
James Martin Inn, 240 Madren Center Dr
There are also dozens of Airbnb listings within a short drive!
Dining
Quick Bites for Breakfast - Located on Tiger Boulevard, just minutes from hotels and our facility:
Starbucks
Chik-Fil-A
McDonald's
Waffle House
Favorite Local Eats - New to Clemson and want to get the full experience?
The Smokin' Pig, 6630 Clemson Blvd, Pendleton - Delicious local BBQ joint
The Esso Club, 129 Old Greenville Hwy #1, Clemson - Classic Clemson casual dining
Sunnyside Cafe, 101 Market St, Clemson - Traditional southern fare meets fresh local ingredients. Breakfast & lunch.
To See and Do - Fun activities to round out your weekend
South Carolina Botanical Gardens, 150 Discovery Lane, Clemson
Fort Hill Plantation, 520 Fort Hill St, Clemson
Memorial Stadium ("Death Valley"), 1 Avenue of Champions, Clemson
Clemson University Equine Center
Clemson University Equine Center | 815 West Queen St.