Tiger's Choice is an intensive riding camp that lets riders experience what it's like to ride for Clemson's IHSA (Intercollegiate Horse Show Association) Equestrian Team. Campers ride Clemson Equestrian Team horses in IHSA format daily, while also experiencing the culture of Clemson University from a student perspective and meeting other equestrians.
Dates:
June 18th-22nd

July 9th-13th
Location
Clemson University Equine Center & Clemson University Campus
Cost
Camp tuition is $950.
About our Coach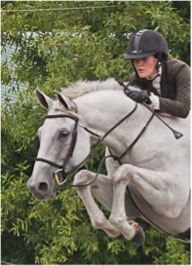 A South Carolina upstate native, Jamie Grant Rowland grew up submerged in a horse-crazed childhood. She was a typical lesson barn rat before channeling her energy toward the hunter/jumper show scene as a teenager. Pursuing endless working student positions, Jamie earned the opportunity to show through her junior years in the hunter, jumper and equitation classes. While completing the Equine Business program at Clemson, she continued to develop her industry experience by working professionally riding and grooming for many reputable trainers in the southeast.
After graduation, it took Jamie only a short time to return to her Clemson roots to become their Hunt Seat coach in January 2013. Years of hard work in the industry gained her the opportunity to ride many horses with great professionals, and she expects the same diligence from her students. Her teaching style emphasizes the dedication to horsemanship and its way of producing safe, poised and effective riders.
Jamie enjoys not only coaching team riders at the Clemson University Equine Center but also developing horses and riders at her personal farm, Chestnut Grove Farm, in Seneca, South Carolina.
Assistant Coach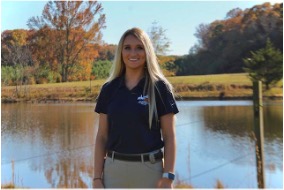 Lexi is a graduate student at Clemson University. During her undergraduate studies, she competed on both the hunt seat and western IHSA teams here at Clemson and successfully competed at Nationals during her senior year. Lexi's riding experience is quite broad, though now her focus is in the Hunters, Equitation, and Reining.
Tentative Itinerary
Tuesday (first day)
3:00 – 5:00 PM Check-in/move in at the on-campus dormitory     
4:00 PM Orientation for campers and parents
5:00 PM Parents dismissed, campers head to CU Equine Center
6:00 PM Dinner, orientation, and evening activities at CUEC
10:30 PM In rooms for lights out
Wednesday - Friday
7:00 AM Roll call in lobby; depart for CUEC
8:00 AM Breakfast served at CUEC; receive horse assignments
9:00 AM-noon Riding lessons & auditing of riding sessions 
12:00 PM Lunch
1:00 PM Daily recreational activity followed by free time 
5:30 – 8:00 PM Riding lessons & auditing of riding sessions; Dinner served around assigned ride time
8:00 PM Put away horses, clean tack, etc.
9:00 PM Depart for campus
10:30 PM In rooms for lights out
Saturday
7:00 AM Roll call in lobby and load luggage; depart for CUEC
7:30 AM Arrive at CUEC, eat breakfast
8:30 AM – 12:00 PM Mock horse show or other special final riding activity 
12:00 PM Lunch at Equine Center
1:00 PM Parents arrive for closing ceremonies
1:30 - 2:00 PM Camper check-out and departure from CUEC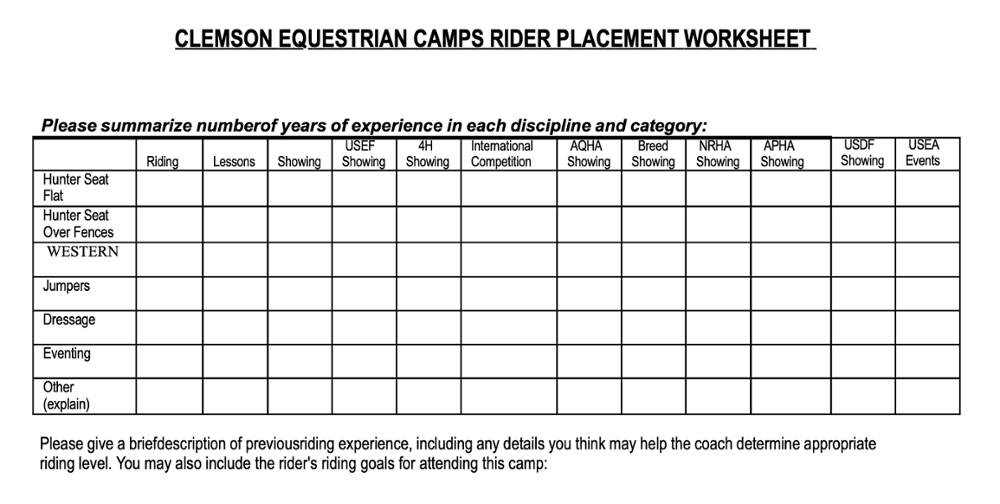 What to Pack for Camp
Personal Items
Soap
Shampoo
Clothing (see below)
Sunscreen
Insect repellent
Personal toiletry items
Bedding (Twin XL sheets or a sleeping bag, and pillow)
Shower shoes
Money for souvenir shopping
Towels
Laundry bag
Water bottle
Riding Apparel
Show clothes are not needed, but all campers should ride in neat and professional-looking apparel. Fitted shirts, polo shirts, or other fitted riding tops are preferred (sleeveless polos are allowed, but no tank tops). Shirts should be worn tucked into breeches or riding tights. Either tall boots or paddock boots worn with half chaps are acceptable. Rider must also provide a personally owned helmet. Clothes with holes, shorts, wide-leg pants, halter tops or tank tops and other unsuitable clothes are not permitted in the stable area.
General Apparel
Shorts, jeans, t-shirts, polos, blouses, tennis shoes, etc. are acceptable away from the barn area. Tank tops should have a minimum of a 1" strap. Revealing clothes are not allowed at camp.
Light jacket
Athletic clothing and swimsuits (tentative) to participate in recreational activities and games
Rain gear
Sweat shirt
Ball cap/sun hat
Ample socks & undergarments
Please do not bring expensive jewelry, cameras, radios, coolers, or excessive amounts of money to camp.
Clemson University Equine Center
Clemson University Equine Center | 815 West Queen St.