Executive Director, Erwin Center for Brand Communications
Email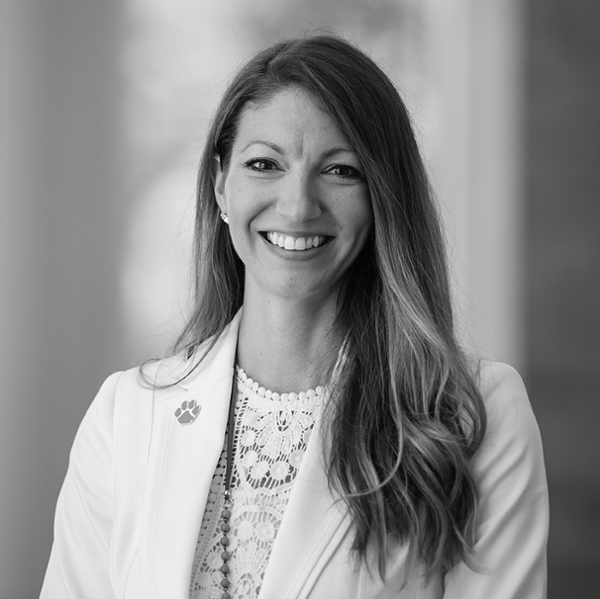 Prior to joining Clemson University as the Executive Director for the Erwin Center for Brand Communications, Katie Hildebrand managed collaborative teams to produce large-scale advertising and marketing campaigns for 10 years. She began her career at a Cincinnati-based digital agency, where she specialized in digital content and interactive technology, leading various interactive projects for Procter and Gamble's Home Care brands. She also spent time as an eCommerce consultant and an Executive Producer where she supported numerous business development projects and oversaw the production of broadcast, print and digital campaigns for clients in a variety of brand categories.
As one of the first adjunct professors in the Erwin Center for Brand Communications, Hildebrand developed a passion for preparing students to enter the ever-changing world of marketing and advertising. She spent three years teaching the digital technology course at Clemson where she worked to help students think differently about technology, social communication and leveraging their skills in these areas to become future brand leaders.
What excites her about The Erwin Center and branding education is the ability to generate future leaders who can channel strategies for the development of brands, products, technology and communications that benefit humanity.
Since joining Clemson University full-time in 2018, Hildebrand has partnered with industry-leading brand professionals to create a roadmap for an experiential brand communications program in the Wilbur O. and Ann Powers College of Business. Under her leadership, the Erwin Center launched the Clemson CMO and Brand Innovation Summit to integrate industry leaders with students and faculty. She also supported the 2020 launch of Cadency, a student-led brand agency, which now enables more than 50 students to work directly with brand partners on hands-on projects. In addition to the undergraduate programs, Hildebrand also collaborated on the Digital Brand Communications MBA concentration which begins in the Fall of 2022, and she serves as a mentor in the Erwin Center's DIVE IN program for advancing DE&I efforts in brand and media education.
Erwin Center for Brand Communications
Erwin Center for Brand Communications | 130 Wilbur O. and Ann Powers Hall - Erwin Center, Clemson, SC 29634