President's Leadership Institute Cohort
Who Can Participate?
Each cohort of the President's Leadership Institute (PLI) comprises 25 faculty and staff members from across the University who demonstrate exceptional performance in their respective areas. Faculty are nominated by the college deans and/or the Provost; staff members are nominated by the University vice presidents or corresponding divisional heads or senior administrators of the non-academic units of the University. A selection committee reviews the nominations for the final cohort.
Annual nominations for the cohort will be solicited in April.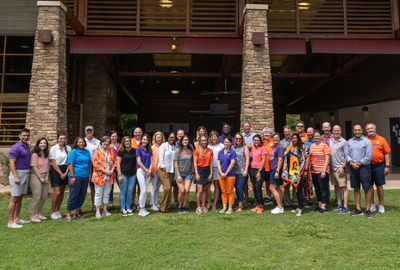 What Can I Expect?
During the nine-month program, the cohort meets once a month for an all-day session.

Meetings take place at various locations on campus or in Greenville, Charleston or Columbia.

Program participants should expect meetings to encompass elements of critical thinking, problem-solving, self-analysis, exposure to new ideas, rigorous and healthy discussion on a myriad of topics, and high levels of fellowship and interaction with fellow classmates.
Potential topics include:
Clemson's history and character (land-grant, mission, governance model)
Clemson University as a business: what it takes to run a university and meet the needs of our constituents (finance, facilities, infrastructure)
Personal leadership skills/team building/leadership styles
Clemson's impact across South Carolina (Greenville, Columbia, Charleston, public service activities)
Conflict resolution
Diversity and inclusion
Governmental relations and external relations
Opportunities and challenges in higher education
Athletics
Strategic planning and university priorities
Josh Barnes, Executive Director, Center for Student Leadership & Engagement
Tessa Byer, University Ombuds
Kelly Caine, Professor, School of Computing, College of Engineering, Computing and Applied Sciences
David Clayton, Assistant Vice President, OCPSI and Executive Director, CU-ICAR
Shamella Cromartie, Associate Dean, Organizational Performance and Inclusion, Clemson Libraries
Monique Everroad, Policy Program Manager, Office of University Compliance and Ethics
Joe Galbraith, Associate Vice President, Strategic Communications for Marketing and Communications
Corrine Grant, Director of Alumni Relations and Development, Division of Inclusive Excellence
Kristen Lawson, Director of Strategic Initiative, Finance and Operations
Dan Lewis, Director of Digital Accessibility, CCIT
Renee Lyons, Director, Science Outreach Center
Michael McManus, District Extension Director, Pee Dee
Nathan McNeese, Associate Professor, School of Computing, College of Engineering, Computing and Applied Sciences
Michael Neault, Director of Livestock Poultry Health and State Veterinarian
Brandy Page, Executive Director of Development, Parent Philanthropy, Student Affairs and University Wide Initiatives
Lior Rennert, Associate Professor, Department of Public Health Sciences and Director, Clemson Center for Public Health Modeling and Response
Donna Roberston, Senior Director of Institutional Excellence, Strategic Execution
Kaifa Roland, Associate Professor of Anthropology and Director of Global Black Studies
Amanda Rumsey, Associate Professor, Department of Education and Human Development, College of Education
Jose Sagarnaga, Clinical Assistant Professor and General Management Area Coordinator, Department of Management, Wilbur O. and Ann Powers College of Business
Jasmine Townsend, Associate Professor and Fellow, Robert H. Brooks Sports Science Institute and PRTM and Director, Clemson Adaptive Sports and Recreation
Erica Walters, Program Manager, ClemsonLIFE
Danny Weathers, Professor, Department of Marketing, Wilbur O. and Ann Powers College of Business
Daniel Whitehead, Associate Professor, Department of Chemistry
Kevin White, Deputy Director of Athletics