If you or someone you are supporting is in immediate danger or feel unsafe, call 9-1-1 or the Clemson University Police Department at 864-656-2222.
Services
Crisis intervention, support, and safety planning

Address needs related to counseling, academics, emergency housing relocation, etc.

Provide information and help accessing resources on and off campus

Provide information and advocacy to students as they move through the judicial, medical, and legal processes

Accompany survivors to related meetings as needed 
FAQs
If my assault happened off campus, can I still utilize you as a resource?

Yes, location of the incident does not affect your ability to receive services.

Can you transport me to meetings related to my incident?

No, at this time transport of students is not permitted. However, if desired, we can meet you at the designated location.

What is the difference between the Interpersonal Violence Response Coordinators and the Title IX Coordinators?

Although both positions can provide the student with resources and supportive measures, Interpersonal Violence Response Coordinators are not a university reporting resource. We walk students through the different university reporting options and connect those who wish to file reports to the appropriate department based on the nature of the incident.

Is the information that I share with the Response Coordinator confidential?

No, we are not a confidential resource. However, in honor of students' privacy as good stewards of information and per the University's policies and practices, all information shared with a Response Coordinator remains private except under extenuating circumstances such as situations that raise safety concerns. We will seek assistance from or report directly to the relevant office in these situations. You may contact us for more information on this.

Are Response Coordinators counselors?

No, we are not counselors. However, Response Coordinators will offer emotional support while working with each student to connect them to counselors or other mental health professionals based on the student's need(s).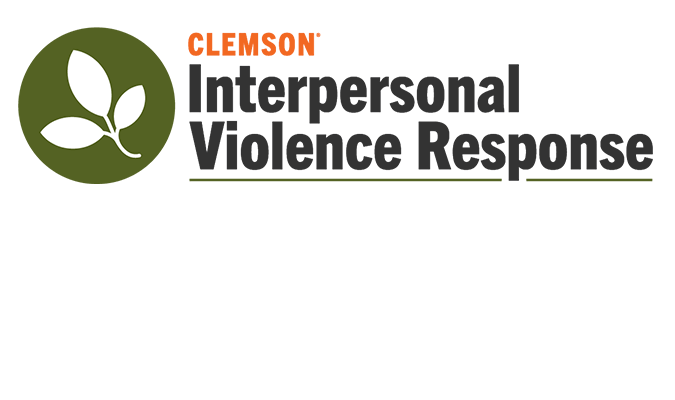 Interpersonal Violence Response
Interpersonal Violence Response | 307 Sirrine Hall, 515 Calhoun Drive, Clemson, SC 29634