Spring Family Weekend – April 14-16, 2023
Greetings!
You're invited to join us for Spring Family Weekend presented by the Inn at Patrick Square on April 14-16, 2023.
This weekend offers a chance to reconnect with your student through a variety of social activities and events across campus. Family Weekend events include a welcome reception, athletic events, campus tours, family trivia, a family tailgate and much more. This weekend has something for everyone!
Be sure to check out our schedule of events on the website and keep an eye out for more details as we approach the spring. There will be multiple events beginning on Friday; weekend events will end by noon on Sunday.
How to Register?
Spring Family Weekend Registration

Registration for Spring Family Weekend opens on Thursday, February 2 at 9:00 A.M. (EST).

You may register through the Clemson Family & Parent Experience Portal. Most of our weekend events are free, but some events require tickets to be purchased. Registering for Spring Family Weekend provides you with access to all free events with the additional option of purchasing tickets to our ticketed events.

Registration Period: February 2 to April 3 at 11:59 P.M. (EST)

Cost: Varies depending on if you choose to attend a ticketed event. Each person attending a ticketed event, including your student, will need a ticket. Children under 5 years old are admitted free (for non-Athletic events only).

Family Weekend Ticketed Event Prices (non-Athletic events):

Family Night Out: Palmetto State Reception- $20 per person

One (1) ticket to Family Night Out: Palmetto State Reception
Each ticket includes admission to our Palmetto State Reception, a chance to meet and greet university officials and other Clemson families.
Includes a variety of hors d'oeuvres and non-alcoholic drinks.

Tiger Family Tailgate, Saturday, April 15 - $25 per person

One (1) ticket to the Tiger Tailgate from 11 a.m.-1 p.m.
Includes a classic tailgate complete with food, drinks (non-alcoholic), music, yard games and more!

Spring Family Weekend Schedule

Check out the full schedule of free and ticketed events on our Spring Family Weekend website.

Athletic Events

Spring Family Weekend is a great time for sports here on campus! Be sure to check out our All Sports Schedule and make plans to attend a game or two while visiting your student. The Spring Football Game will take place on Saturday, April 15th at 1:00 P.M. in Memorial Stadium.

All ticket purchasing instructions and other details are included on the Clemson Athletics website.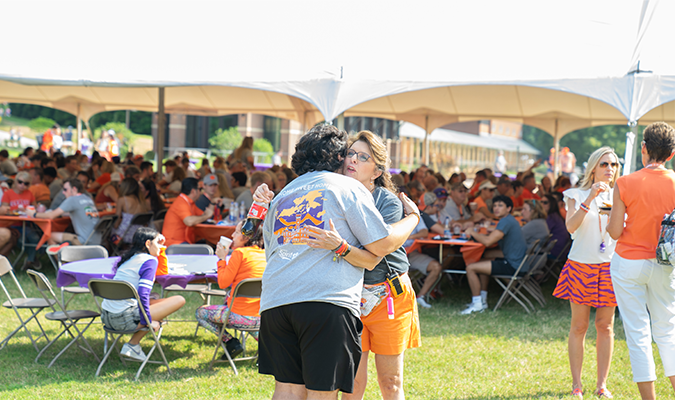 More Details
As we approach Spring Family Weekend, more details will be posted on our website including parking information, a detailed schedule, and more.
We look forward to seeing you at Spring Family Weekend! If you have any questions, please contact us at email or 864-656-0515 extension 1.
Go Tigers!
Center for Student Leadership & Engagement
The Center for Student Leadership & Engagement is responsible for coordinating the Orientation program as well as a variety of other family programs including Fall and Spring Family Weekends. We recently opened sign-ups for students and have communicated to them their Orientation process. Like the student experience, we will be offering Parent and Family Orientation in a hybrid format consisting of online elements and an optional in-person experience over the summer. The following outlines our Parent and Family Orientation experience for Summer 2022.
Clemson Parent & Family Experience Portal
Our staff will engage with parents and families online over the summer through our family portal called the Clemson Parent and Family Experience. You should have already received an email inviting you to join the Clemson Parent and Family Experience. I would encourage you to join; creating an account is free. During your student's time at Clemson, this portal will be your one-stop shop for helpful resources, campus news and important announcements from the university.
We invite you to participate in Ready, Set, Roar! —an optional two-day campus experience in June and July. This experience is an opportunity for new students, parents and families to visit campus and build connections with each other, faculty and academic staff, as well as Clemson itself. Orientation Ambassadors and Clemson staff members will guide you through the program as you hear from campus administrators and representatives from your student's academic college/major and participate in exciting activities designed to enhance the transition to college. There is a student and guest fee associated with this program and space is limited. Your student will receive information on how to sign up for this experience in their Clemson email account. If you wish to attend this experience along with your student, be sure your student registers you as a guest.
Parents and families of students entering Clemson in Spring 2023 are also welcome to attend Ready Set Roar in person orientation on January 10, 2023.
Student Virtual Orientation Experience
Our Virtual Orientation Platform which goes live May 11. This module-based platform includes all information critical to your student's success at Clemson, from campus life and traditions to academics and major-based information. The Virtual Orientation features videos from faculty and staff members, includes quizzes to track students' comprehension, and is the only required portion of new student orientation.
As a family member, you can also participate in your own track within the Virtual Orientation, which includes much of the same information your student sees, in addition to key events, resources, and tips and tricks relevant to parents & families specifically. You are welcome to do so by clicking "Guest Login" and creating an account at Virtual Orientation Portal.
We're looking forward to welcoming you and your student to the Clemson Family! If you have any questions, please feel free to contact us.
Center for Student Leadership and Engagement
Center for Student Leadership and Engagement |