Spring Family Weekend - April 2023
Dates & details to be determined upon release of Clemson athletics schedule in early 2023.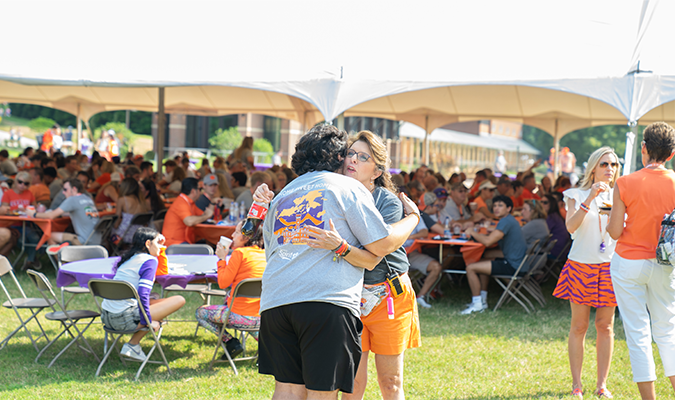 The Center for Student Leadership & Engagement is responsible for coordinating the Orientation program as well as a variety of other family programs including Fall and Spring Family Weekends. We recently opened sign-ups for students and have communicated to them their Orientation process. Like the student experience, we will be offering Parent and Family Orientation in a hybrid format consisting of online elements and an optional in-person experience over the summer. The following outlines our Parent and Family Orientation experience for Summer 2022.
Clemson Parent & Family Experience Portal
Our staff will engage with parents and families online over the summer through our family portal called the Clemson Parent and Family Experience. You should have already received an email inviting you to join the Clemson Parent and Family Experience. I would encourage you to join; creating an account is free. During your student's time at Clemson, this portal will be your one-stop shop for helpful resources, campus news and important announcements from the university.
Ready, Set, Roar!
We invite you to participate in Ready, Set, Roar! —an optional two-day campus experience in June and July. This experience is an opportunity for new students, parents and families to visit campus and build connections with each other, faculty and academic staff, as well as Clemson itself. Orientation Ambassadors and Clemson staff members will guide you through the program as you hear from campus administrators and representatives from your student's academic college/major and participate in exciting activities designed to enhance the transition to college. There is a student and guest fee associated with this program and space is limited. Your student will receive information on how to sign up for this experience in their Clemson email account. If you wish to attend this experience along with your student, be sure your student registers you as a guest.
Parents and families of students entering Clemson in Spring 2023 are also welcome to attend Ready Set Roar in person orientation on January 10, 2023.
Student Virtual Orientation Experience
Our Virtual Orientation Platform which goes live May 11. This module-based platform includes all information critical to your student's success at Clemson, from campus life and traditions to academics and major-based information. The Virtual Orientation features videos from faculty and staff members, includes quizzes to track students' comprehension, and is the only required portion of new student orientation.
As a family member, you can also participate in your own track within the Virtual Orientation, which includes much of the same information your student sees, in addition to key events, resources, and tips and tricks relevant to parents & families specifically. You are welcome to do so by clicking "Guest Login" and creating an account at Virtual Orientation Portal.
We're looking forward to welcoming you and your student to the Clemson Family! If you have any questions, please feel free to contact us
Welcome to Clemson, and Go Tigers!
Frequently Asked Questions
Center for Student Leadership and Engagement
Center for Student Leadership and Engagement |