Fraternity and Sorority Life Fee
During the spring 2016 semester, the Office of Fraternity and Sorority Life worked with the presidents of the fraternity and sorority governing councils and chapters to develop a long-term funding model that will be supported through a Fraternity and Sorority Life Fee.  The purpose of this fee is to provide the fraternities and sororities with a sustainable advising and programming model to create a membership experience that is congruent with both the university's and the organizations' mission, purpose and values.  Similar fees have been implemented at peer institutions such as Louisiana State University, the University of Oregon, and the University of South Carolina.  This fee will be assessed to affiliated students each semester on their tuition bill throughout the duration of their membership in a fraternity or sorority at Clemson University.  
The Fraternity and Sorority Life Fee allows the Office of Fraternity and Sorority Life to be a self-funded department, and the money generated goes toward providing increased staffing, training, and developmental programs for a 6,000 member community that comprises 27% of the campus population.  The Fraternity and Sorority Life Advisory Board, comprised of alumni, advisors, and students, assist the Office of Fraternity and Sorority Life in making strategic budgetary decisions on programming initiatives from the money generated by the fee each year.  The fee for the 2023 - 2024 academic year is $60 per semester.
When Will I Be Charged?
Returning members will be charged when bills are released in July and November.  During the first semester of membership for students joining or transferring into an organization in the College Panhellenic Association or Interfraternity Council, the charge will be made on their tuition bills in late September and February.  Students participating in the Membership Intake Process for the Multicultural Greek Council and National Pan-Hellenic Council will be charged during their first full semester of membership due to the timing of Intake during the previous semester.  If a student resigns or has his/her membership terminated in the middle of a semester, or if an organization is suspended by the university for violations of the Student Code of Conduct, or suspended by the headquarters for violations of national policy, they will not be charged the following semester. 
If you believe you have been charged this fee in error, please contact Lynn Tumblin, Operations Coordinator, with the information below:
Name
CUID
Organization
Email
Phone
Reason you believe you were charged in error.
Once we confirm with your chapter president that you are no longer a member of the organization, the charge will be removed from your bill.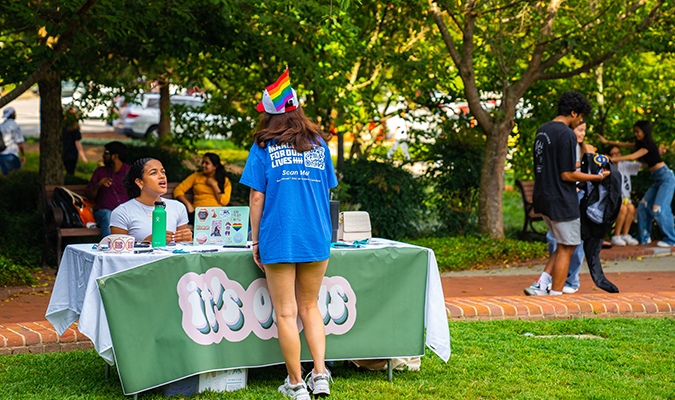 Fraternity and Sorority Life
Fraternity and Sorority Life | 100 Norris Hall Clemson, SC 29634