The Clemson University MPA program undertakes regular internal and external assessments of all program features. A spring 2020 student survey was conducted using the online survey platform, Survey Monkey.  This survey evaluated student perceptions of strengths and weaknesses in four primary areas:
Overall program perceptions
Existing specializations
Advising needs
Technology needs and requirements
Overall Program Perceptions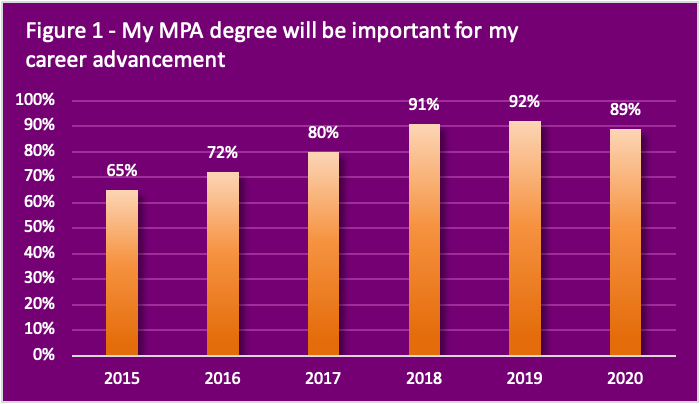 Eighty nine percent of students indicated that the MPA program was important for their career success. This response has been consistently high over the last six years (Figure 1).  The 2020 results related to overall program perceptions remain consistently high. Almost 88% of respondents would recommend the Clemson MPA program to their friends and colleagues. These results are consistent with the last six years, with over 85% of students consistently noting the positive value of the program.
When asked about core course work, the survey asked students to rank courses using a range from (1) most important to seven (7) being the least important. Results are displayed in Figures 2 and 3. Administrative Leadership ranks highly (52%) followed by Perspectives on Public Administration (27%). In the case of the least important course(s), the students identified Research Methods for Public Administration (31%), followed by Public Data Analysis (23%) as the least important (31%).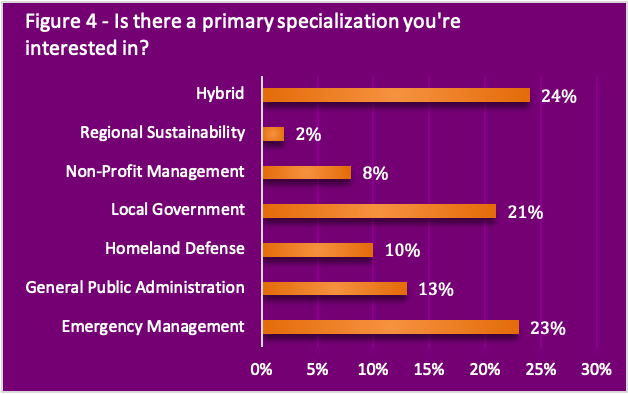 Survey results indicate that existing MPA specializations attracted nearly two-thirds (60%) of the current student body.  However, there are also a significant number of students indicating that specializations were not a factor for choosing the Clemson MPA program (40%). A strength of the program lies in the diversity of professional and academic interests across the student body. Figure 4 illustrates this, as these results reveal a broad interest in different specializations, with nearly one quarter (24%) of our students indicating an interest in a hybrid mix of elective courses.
Local government and emergency management are the most preferred sets of topical courses among the student body (21% and 23% respectively). An important contribution of the program is the ability to attract students with a broad interest in Public Administration, allowing students to focus on key specialization areas but to also gain a breadth of public administration knowledge that all leaders need.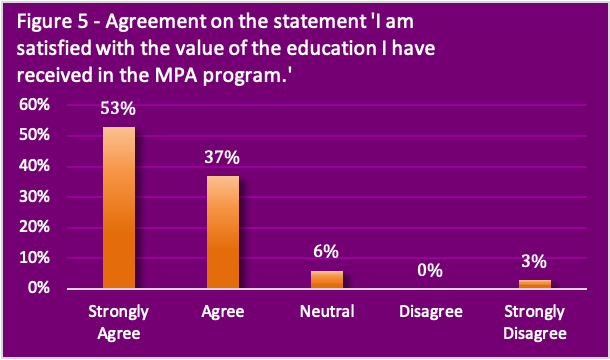 From the students who responded to the survey, 87.5% would recommend the MPA program to their friends or colleagues. Fifty-three percent of respondents strongly agreed that they are satisfied with the value of education received in Clemson's MPA, 37% of respondents agreed with this statement (Figure 5). Less than 10% of respondents were neutral or disagreed with this statement. The reasons provided by students vary, but there is, overall, contentment with the professors and staff and the uniqueness of Clemson's live online education. Examples of comments include:
"...the program has opened my mind to many areas as well as access to students who are working currently in the public sector. The instructors relate their experiences to the class so that I can incorporate some of their experiences with mine."
"I feel like I've learned a lot about the core concepts of public administration which has really come in handy in program management in the economic development sector."
"I have enjoyed all of the classes that I took. I feel like there is a vast array of courses and students can choose their own path through the program."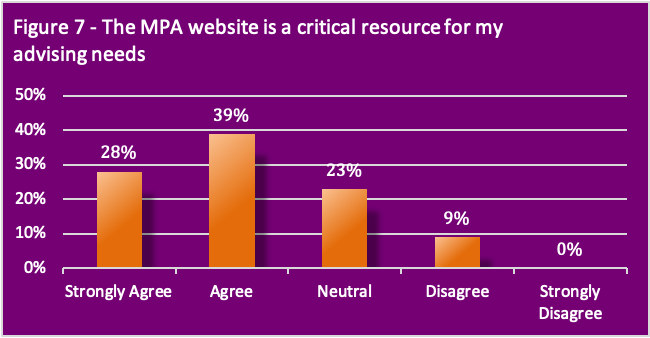 A clear majority of respondents (92%) believed their advising needs and questions have been met in a timely and effective manner. This metric has shown some improvement over last year's survey (86%).  However, there is some room for improvement in this area. Some students' suggestions were:
"Having program level options to encourage entire program collaboration rather than class level collaboration. Zoom groups based on specialized areas such as EM regardless of class being taken that semester. Expert discussion drop-in sessions."
"Each student should have several required virtual advising sessions at established points throughout their time in the program."
Concluding Thoughts
Overall, student feedback was very positive about the majority of program elements. Students did share ideas for improvement that the program will consider seriously over the next academic year.  Students suggested revising several core courses and having a clearer course progression with core courses. Specifically, reviewing the Personnel, Public Finance, Research Methods and Data Analysis courses were all suggestions. Ensuring students feel that all courses add value to their program of study is critical for the MPA team to evaluate. Other suggestions related to more opportunities to engage online in professional development settings and identify practical topics that the program could offer in shorter course segments. Respondents also had suggestions for additional courses around economic development, diversity and inclusion, internationally focused courses, planning, public safety, procurement and contracting, healthcare administration, public affairs, city and county management course, and others. These ideas are very helpful, and the program will evaluate adding courses based on this feedback.
MPA students at Clemson are seeking to increase their management and leadership skills, promotion within their organization, to change employment/industry sectors or are seeking a new job within the same sector at a different agency/organization. The majority of students strongly agree that the program has improved their team development skills and has allowed them interaction with both students and instructors. While there is always room for quality improvements, almost 90% of the respondents agree that the MPA degree has been important for their professional success. The program will continue to build on these strengths to ensure the highest quality program possible for students.
Department of Political Science
Department of Political Science | 232 Brackett Hall