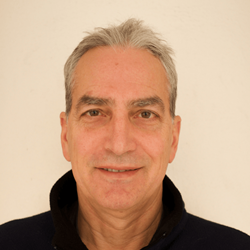 Dr. Eric Dinerstein is the Director of WildTech at RESOLVE and the co-developer of TrailGuard AI. Eric has extensive experience conducting field research on rhinos and tigers in Asia beginning in 1975 in the Bardia National Park of Nepal and then from 1984-1989 as a biologist with the Smithsonian where he led field research and monitoring of rhinos and tigers in Nepal's Chitwan National Park.
For twenty-five years (1989-2014) he was Chief Scientist at the World Wildlife Fund. Eric has also played a central role in creating the conservation plans for many iconic landscapes—including the Terai Arc in Nepal, the panda mountains of China, and the Galapagos.
Eric has published widely on the biology and conservation of tigers, rhinos, and elephants and authored several books on these species and on biological rarity. More recently, he led two publications calling for a Global Deal for Nature aimed at saving life on Earth and stabilizing the climate and another paper to operationalize it, called The Global Safety Net, both published in Science Advances. He is also a co-author on a new paper to provide the scientific basis for a pragmatic approach to rewilding large mammal species to restore intact vertebrate assemblages globally.