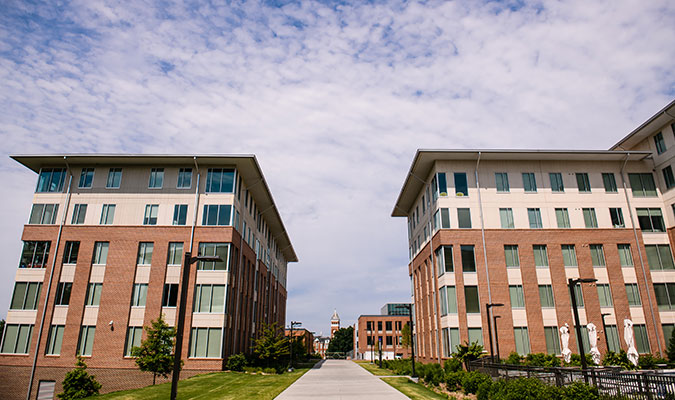 Safe Campus Return
Let's make this a safe place for everyone. When on campus, we ask that you follow all directional signage and physical distancing protocols.
ACADEMIC INSTRUCTION
The University's goal is to create an academic program that prioritizes the health and safety of our students, faculty, staff and the entire Clemson community while providing our students the most engaged learning experiences possible, both in the classroom and in the field.
In-person instruction is what our students prefer unless they have intentionally enrolled in a virtual learning opportunity. As a result of painstakingly thorough space management planning and scheduling, moving forward traditional, in-person instruction will increase significantly, including as close to normal as possible for the Fall 2021 semester.
Access the University's Academic Calendar for information regarding the school's 2021 and 2022 academic years.
Ingress/Egress/Occupancy
To ensure physical distancing is maintained in classrooms and offices, Clemson has assessed needs across campus. Facilities has determined:
Where physical barriers (i.e., tape on floors, plastic shields/sneeze guards, signage, etc.) need to be placed.
Where chairs needed to be removed in waiting areas, conference rooms and/or breakrooms to ensure proper physical distancing.
Adjusted entry points while creating one-way hallways and stairways using signage where possible.
How to prepare classrooms and offices to ensure there is 36 square feet per person.
That labs will have no more than two individuals per 150 square feet or another referenced standard.
Retail areas will have no more than five customers per 1,000 square feet or 20 percent of the posted occupancy.
Connected Learning
More than 400 cameras and microphones have been installed in classrooms to allow for synchronous or asynchronous delivery of instruction.
All classes with in-person components have blended online components.
Several nontraditional academic spaces have been converted into classrooms in areas such as the Barnes Center, Brooks Center for the Performing Arts, Hendrix Student Center and Swann Fitness Center at Fike to account for limited capacity in traditional spaces.
Face coverings will be required in all buildings and classrooms, and accommodations are being planned for those instructors who need alternative mitigation protocols (Plexiglass barriers, increased distance from students, etc.).
Campus Study Spaces for Students
Visit Campus Study Spaces for Students to find information on where you can study on campus and reservation links to all the available spaces.
Research laboratories and facilities will reopen on a case-by-case basis on and off campus. Virtual lab work also is being developed by faculty where possible to support a seamless return to research activity. The following rules must be followed in labs:
At least two persons should be in the lab at a time to ensure safety and security. Be sure to observe physical distancing, wear your required personal protective equipment and observe hygiene guidelines.
No more than three individuals should be in a lab space at a time if possible.
Work should only be conducted during typical business hours (8 a.m. to 6 p.m.) and during the specific times indicated in the essential research proposals that have been approved.
Restrict required vehicle ridership to one person per vehicle whenever possible and provide adequate ventilation/air flow.
All research activities not previously approved for in-person activities may be considered for approval following existing protocols including the identification of essential research personnel, which will include undergraduate and graduate students, via the Associate Dean for Research in the employee's college.
All regular and typical approvals for chemical hygiene, safety, etc. will remain in force. Employees and students engaged in research activities must also have a negative COVID-19 test before engaging in research activities, and they will be responsible for following standard COVID-19 protocols such as social distancing, face coverings, cleaning, etc.
Additionally, the Division of Research and office of Occupational and Environmental Safety have put together several guidance documents to inform research activity on campus:
ACADEMIC CALENDAR
Online delivery options continue to be available and traditional, in-person instruction will increase significantly, representing one-third of all class instruction.
Access the University's Academic Calendar for information regarding the school's 2021 and 2022 academic years.
INNOVATION CAMPUSES AND STATEWIDE LOCATIONS
Clemson's instructional footprint stretches across the State of South Carolina, and the status of each University location may vary as specific regions experience surges of positive cases at different times. University officials have been working closely with representatives at each statewide location, and decisions to change operational status will be made using localized information.
CARES Act
Higher Education Emergency Relief Fund Reporting – Emergency Financial Aid Grants to Students
The following disclosure is in compliance with HEERF reporting as required in the Office of Postsecondary Education's Electronic Announcement 2020-05-06.
Clemson University signed a certification with the US Department of Education agreeing to use no less than 50% of our allocation from the CARES Act to provide emergency grants to students. Clemson University was allocated $6,789,998 for emergency grants, which were disbursed under the name Clemson CARES Grants beginning May 5, 2020.
Over the next six months, Clemson disbursed $6,789,998 to 9,159 students. Clemson University had approximately 12,500 students who were eligible to participate in federal student financial aid programs, but we prioritized our students with the greatest need as encouraged by the Secretary of Education.
We disbursed the funds in three tiers: we awarded $1,000 to Federal Pell Grant recipients; $900 to students with Expected Family Contributions (EFC) less than 10,000; and $500 to students with any gross financial need as demonstrated by the Free Application for Federal Student Aid (FAFSA). After the initial disbursement, we exhausted the small remaining balance by giving additional $100 grants to the neediest students. Students were notified of the award at their Clemson email address as follows:
We hope that you had a successful close to your semester, and that you and your family are healthy and safe. We are pleased to share some good news.
On March 27, 2020, Congress passed the Coronavirus Aid, Relief, and Economic Security (CARES) Act, which provided Clemson University with funding for emergency financial aid grants. The US Department of Education limited the funding to students eligible for federal student aid, and encouraged schools to prioritize students with the greatest need. The funds are to assist students with expenses related to the disruption of campus operations due to the coronavirus. Because you were identified as a student in need who was impacted by the campus closure, you have been awarded a Clemson CARES Grant.
To view your grant, please login to your financial aid award page in iROAR. If you have authorized eRefund with the billing office, your refund will be deposited in the account you designated. If not, we will send a paper check to your permanent address.
By accepting the Clemson CARES Grant, you certify that you incurred expenses (such as food, housing, course materials, technology, healthcare, or childcare) related to the disruption to campus operations due to the COVID-19 pandemic, and you are prepared to provide documentation (if requested) that your expenses were greater than or equal to the amount of your grant. If your expenses were not greater than or equal to the amount of your grant, you must notify

 

finaid@clemson.edu

 

to reduce or remove your grant, and then repay your refund with eCheck on iROAR.
We hope this grant will ease the financial strain caused by the pandemic, and we look forward to your safe return to campus.
Higher Education Emergency Relief Fund Reporting – Institutional Aid
Quarterly Budget and Expenditure Reporting under CARES Act - Institutional Portion