Getting faculty and staff back on campus means working together on behalf of our University. Find information for employees, supervisors, faculty and contractors on testing, reporting, cleaning and physical distancing. We all have a role to play, and our goal is to make this a place for everyone.
Vaccine Information
WORKPLACE EXPECTATIONS AND GUIDELINES
All new Clemson employees will be sent required training through the Tiger Training system. The training provides detailed instructions for all aspects ofworking from Clemson facilities during COVID-19. The Tiger Training system will provide new employees reminders until the training is completed.
Employees who are at a higher risk for COVID-19 based on risk factors or concerns should discuss their concerns with their supervisor. You do not need to disclose any specific medical information or medical history with your supervisor — only that you or you as a caregiver of a member of your household who meet the higher risk criteria defined by the CDC guidelines. Those who are at an increased risk of experiencing illness due to contracting COVID-19 can request an accommodation .
Two cloth facial coverings will be provided to you upon return to your workplace. You may wear your own cloth facial coverings or mask.
Your cloth facial covering need not be worn when you are in your office alone and when your office door is shut or cracked. Those who work in open cubicles must wear a cloth face covering and should have a rotating/alternating schedule to promote physical distancing.
Any issues or concerns with wearing a cloth facial covering should be shared with your supervisor.
For additional details regarding returning to work, view HR's COVID-19 Guidance for Employees and Supervisors (PDF).
For return-to-work guidance for supervisors, view HR's guidance for supervisors (PDF).
For additional COVID-19 HR resources for staff and faculty returning to work on campus.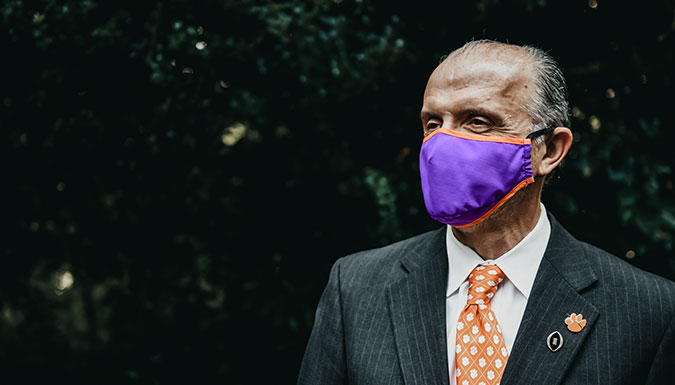 Employees
Before you come back to campus, here's what you need to know. Clemson University is closely monitoring the rapidly changing situation with the coronavirus pandemic (COVID-19). During this unprecedented time, Clemson will continue to focus on the safety of students, faculty, staff and the Clemson community. Clemson is committed to protecting the most vulnerable and minimizing the potential for an outbreak at any campus location. Decisions are being made with health and safety as the top priority, using guidance from the Centers for Disease Control and Prevention (CDC) and the South Carolina Department of Health and Environmental Control (DHEC). Clemson University's plan establishes guidelines for the University to recover from COVID-19 in coordination with federal, state and local laws and guidance.