Breakthrough Scholars are Clemson University undergraduate students who intend to pursue advanced degrees in STEM (Science, Technology, Engineering, and Mathematics) fields.
Students considered for the program are inquisitive learners with demonstrated leadership potential and a desire to make a difference through research, service, and academic excellence.
The Breakthrough Scholars Program offers individualized support to these students to help them grow their leadership abilities, specialized knowledge, and experience in their chosen fields. 
Find out how scholars are selected. 
Meet our Scholar cohorts (organized by the year they were admitted to Clemson University) below: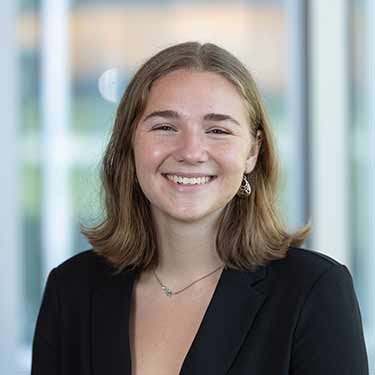 Kathleen (Katie) Barfield
Katie is an Biochemistry major from Chapin, SC. Over the next four years, she plans to gain an understanding of a variety of sciences to apply her knowledge to major issues facing the planet, such as water or sanitation, through targeted research and solutions. She ran Varsity track and cross country through high school, with her team breaking the school's 4x400m relay record. Katie was President of her school's Key Club and heavily involved in the Academic Leadership Academy, where she earned a Leadership Certification from the Center of Creative Leadership and completed an AP Capstone project. She is also a published researcher, through her article on the Effect of Socioeconomic Status on the Lead Content of School Drinking Water in South Carolina. She plans to pursue a masters and/or doctorate degree after graduation.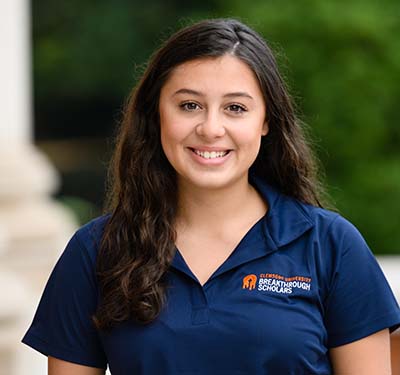 Ainara Garcia
Ainara is a Computer Engineering major from Clemson, SC. She's using her time at Clemson to explore computer hardware and software that develops her knowledge of artificial intelligence and machine learning. Her goal is to work as a processing engineer or scientist researching the applications of artificial intelligence in biomedicine. She feels a strong connection to service, demonstrated through her volunteer work as Student Body President in high school, a student ambassador, and a tutor for other students. Ainara was also her school's swim team captain.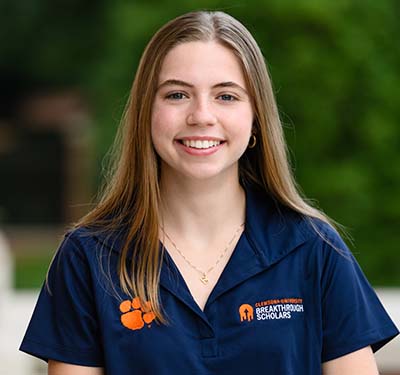 Kathleen Kidd
Kathleen is an Engineering major from Mount Pleasant, SC. The major is perfectly suited to her passion for problem solving and brings her love of math and science together with creative solutions during the design process. In high school she was actively involved in Band (as a section leader) and served as Co-president of the Engineering Club. After she graduates, Kathleen plans to pursue a Master's degree in biomedical engineering before building a career focused on the research and design of medical technologies.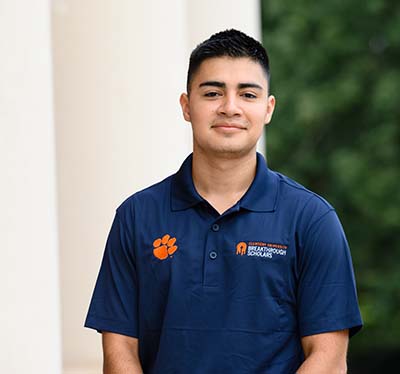 Justin Silva
Justin is a Computer Science major from Mount Pleasant, S.C. He is working to build the technical and problem solving skills needed to address some of society's most pressing problems and spearhead the revolutionization of technology. His focus is on primarily on smart technologies, such as voice assistants, autonomous vehicles, and wearable technology, with a goal of developing general artificial intelligence in the future. Justin was involved in ROTC throughout high school, becoming Vice President in his senior year. He was also heavily involved in the PLTW program, taking five engineering classees and helping to design a conveyer system that can clean trash from rivers. He's passionate about computer programming, completing classes online in his spare time, a python bootcamp through Udemy, and deep learning through Udacity. He also learned about Rasperry Pi and computer vision on his own, after buying a robot on Amazon.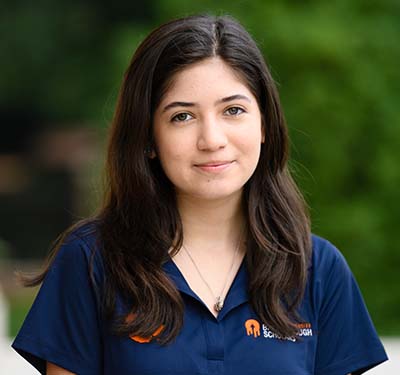 Brianna Sebastian-Olazabal
Brianna is an Engineering major from Myrtle Beach, S.C. Her goal is to apply her STEM abilities towards addressing major global issues, such as climate change and global disasters, through renewable energy. She started this work in high school through the Clean Energy with Environmental Engineering major, where she applied the engineering design process to the creation of prototypes, such as solar panels and wind turbines, to produce energy. She also built and designed a prototype for a nuclear battery. Brianna was an active volunteer at her school, leading the charge to clean up its community garden, while also introducing vegetable and pollinator plants. She also played an active role in several other groups, such as SNHS, NEHS, Rho Kappa, Beta Club, NHS, Treehuggers (a recycling club that sorted out all of the recycle bins at her school), and the school's Multicultural Planning Committee.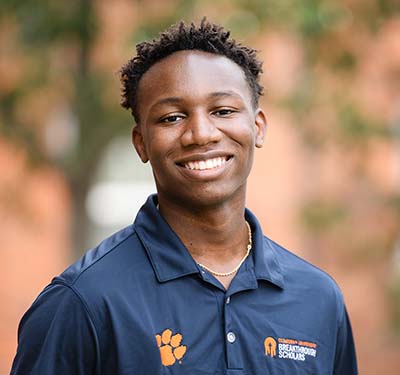 Kwame Andre
Kwame is a Computer Science major from Greenville, SC. At Clemson, he is a member of the National Society of Black Engineers, the Black Honors Association, and Clemson Club Soccer. Kwame is a software research team member on the PLM Processes Creative Inquiry team, developing expertise in NX software, utilizing software to create digital representations of an electric ground vehicle, and collaborating with team members to streamline the digitization of business. He's planning to do an REU (Research Experience for Undergraduates) in computer science this summer.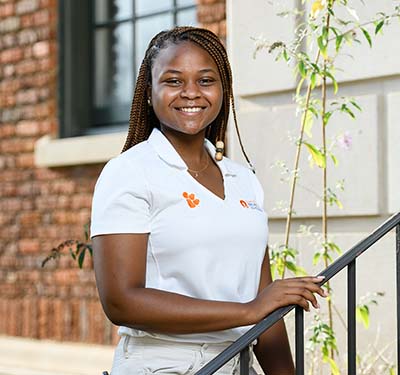 Alaura Cakley
Alaura is a Chemical Engineering major from Columbia, SC. At Clemson, she serves as an Honors College Student Ambassador and CONNECTIONS mentor, and is a member of the Black Honors Association, National Society of Black Engineers, and Gospel Choir. Alaura participates in a Creative Inquiry project in the Department of Chemical and Biomolecular Engineering through which she examines the design and synthesis of advanced nanomaterials to address global challenges of the 21st Century. Over the summer, Alaura will be completing an REU in chemical engineering at the University of Florida.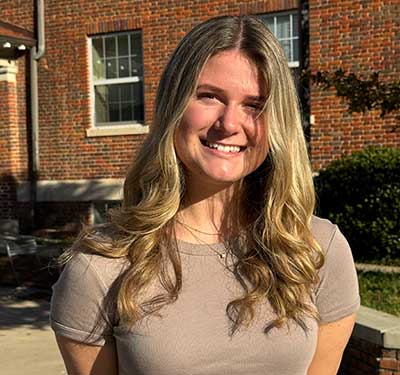 Chloe Crozier
Chloe is a Computer Science major, with minors in Electrical Engineering and Economics, from Charleston, SC. At Clemson, she is a member of Clemson Loops (for women programmers), the Society of Women Engineers, and Alpha Omega Epsilon. Chloe and her teammates won the Best API Hack at the 2021 HelloWorld Hackathon. She also participates in an IBM Watt AI Creative Inquiry group in which she interprets free-text medical reports using AI and ML algorithms to promote more informed data analysis, while creating practical and scalable solutions to data management. Chloe is an intern for the Hub at Clemson, where she holds a software development position writing Python programs for identifying coordinated inauthentic attacks on social media platforms. She plans to continue that internship this summer, while also pursuing personal research with an Honors Research Grant.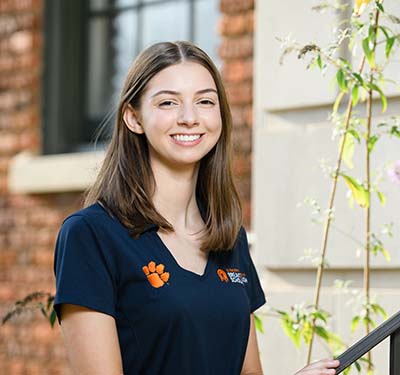 Kristen Guernsey
Kristen is a Computer Engineering major from Fort Mill, SC. At Clemson, she is a member of the Society for Women Engineers, the Clemson Sexuality and Gender Alliance, and the Clemson College Democrats. She participates in the Future Engineers Creative Inquiry group, preparing STEM activities for local elementary school students. Kristen was part of a small group recognized for the Best API Hack at the 2021 HelloWorld Hackathon, creating an API for sorting U.S. state sustainability data and coding a website to present the data. This summer, Kristen will be completing research in the Collaborative Robotics and Automation (CRA) Lab at the CU-ICAR facilities in Greenville, SC.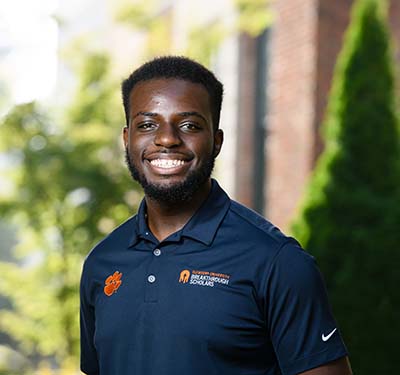 Christian Ihekweazu
Christian is a Computer Science major with a minor in Mathematical Sciences from Orangeburg, SC. At Clemson, he is a member of the Clemson AI Club, the Black Honors Association, and the National Society for Black Engineers. He participates in the Trace Research Group, which focuses on AI and human-centered computing research, and a Watt Center AI Creative Inquiry group, which is developing a natural language processing project to help teachers automate their reading assessment records. Christan and his teammates won the Best API Hack award at the 2021 HelloWorld Hackathon. Christian plans on continuing his work in the Watt Center Creative Inquiry this summer.