Building a Community of STEM Scholars
Breakthrough Scholars demonstrated the potential to make a difference – in their fields, their communities and on a global scale – even before they graduated from high school. 
The Breakthrough Scholars Program (BSP) provides opportunities for these Scholars to connect with professionals in science, engineering and health, as well as faculty mentors in research labs both on and off campus, across the nation and in other countries. 
The program also provides a full cost of attendance scholarship to help reduce the financial barriers. This allows students focus on their academics and search for opportunities to participate in research during the academic year and over the summer. 
Our goal is to help them develop and use their talents to broaden their impact, whether that be in the classroom, the lab, their community, or their future professions. 
In addition to the benefits offered directly by the BSP, Scholars also are members of the Clemson University Honors College.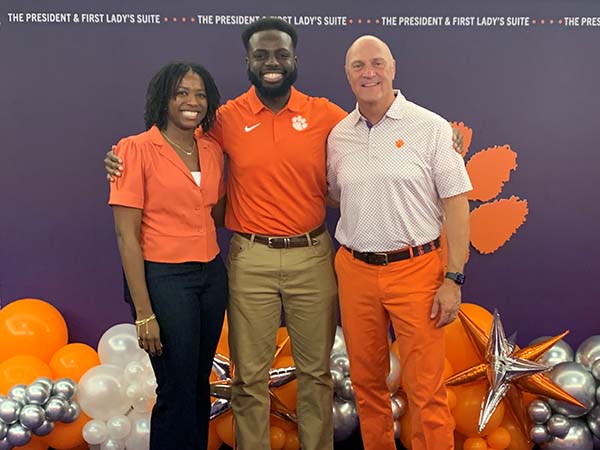 Key Aspects of the Program
Academic Engagement & Career Development
Research: Scholars are encouraged to participate in research during the academic year and during the summer to help prepare and succeed in graduate school.
Professional Development: Scholars participate in a series of workshops and seminars on resumes, personal statements, networking, etc. for preparation of applying to graduate school and career jobs.
Academic and Personal Coaching: In addition to their academic advisor and Honors advisor, scholars have a BSP advisor dedicated to helping them reach their academic, career, and personal goals.
Mentoring: Scholars are provided with peer mentors to help them navigate their majors and Clemson. They also have the chance to connect with STEM professionals across the country, and STEM faculty, staff, and graduate students at Clemson through a variety of networking events and research opportunities.

Study Groups and Tut

oring: Scholars are encouraged to connect with other undergraduate students in their STEM classes and have access to free tutoring.
Building a Community of Scholars
Cohort-based Model: Students are admitted to the program before their first year and will be with the same cohort of students throughout their undergraduate career. A cohort model creates a community of like-minded scholars who support each other and build lifelong connections in the STEM disciplines.
Sense of Community: Workshops, cohort meetings, team building experiences, and other events help foster friendships and a feeling of community between BSP scholars throughout their time at Clemson, in addition to their Honors College experience. 
Summer Experience: a mandatory experience the summer prior to their first year. This includes participation in the Honors College's innovative EUREKA! program and specialized workshops, activities, and advising for Breakthrough Scholars. The Summer Breakthrough Experience prepares scholars for the new expectations and requirements of college courses and helps develop a close-knit peer group.
Community Support: The Breakthrough Scholars Program connects students to alumni, faculty, staff, campus partners, and graduate and undergraduate students in STEM to create a network of people so they can be successful at Clemson and in obtaining their professional goals.