Partnership with Clemson Athletics
ClemsonLIFE Athletic Managers
On average, 20 ClemsonLIFE students serve as athletic managers of Clemson sports teams every year! The Clemson teams that hire ClemsonLIFE athletic managers are:
Basketball (Men's)
Basketball (Women's)
Cheerleading
Clemson Football
Club Field Hockey
Club Lacrosse
Club Volleyball
Rally Cat
Rowing
Rugby
Soccer (Men's)
Soccer (Women's)
Softball
Track and Field

ClemsonLIFE Athletic Manager Position Description
Ensure athletes maintain appropriate hydration levels during practice and competition
Distribute equipment needed for practice and competition
Gather equipment used at the conclusion of practice and competition
Record routines and drills during practice
Participate in on-court or on-field activities during practice when asked by the Coach
Be on call during practice to perform traditional managerial duties
Other sport-specific duties as assigned

ClemsonLIFE Athletic Clinics
ClemsonLIFE students attend monthly athletic clinics during the academic year.  Every Clemson intercollegiate team hosts a clinic for the ClemsonLIFE students.  During these clinics, ClemsonLIFE students interact with the athletes, participate in drills with the athletes, watch the team practice, and eat a meal with the athletes.
The Clemson Intercollegiate Teams that Host Athletic Clinics are:
Baseball
Basketball (Men's)
Basketball (Women's)
Clemson Football
Golf (Men's)
Golf (Women's)
Rowing
Soccer (Men's)
Soccer (Women's)
Softball
Tennis (Men's)
Tennis (Women's)
Track and Field
Volleyball
Inclusive Collegiate Experiences
ClemsonLIFE students are fully integrated into the Clemson University student experience. LIFE students join student organizations, intramural sports, Greek life, student government, and regularly attend all sporting events.
A short list of current organizations include but are not limited to:
Equine
Athletic Events
Night to Shine
Student Government
Greek life
Unified/Intramural sports
FCA
Social Club
Tiger Sharks (swim team)
And many other organizations
---
Clemson Letterbox Club
The Clemson Letterbox Club is sponsored by ClemsonLIFE at Clemson University and sends packages to Youth in foster care in the state of South Carolina.
Mission
Children are enrolled for the program by participating local DSS agencies. Each child is sent a colorful parcel of books, math games, stationery and other complementary materials once every month for six months. For many children it's the first time they have had a letter or a parcel through the post and for some, it's the first time they have had books of their own. Letterbox Club parcels are delivered to participating DSS case workers who then post them to the child's home address.
The Benefits
Can significantly improve children's reading and numeracy
Encourages children and their cares/parents to read and play games together
Gives enjoyment to children through owning their own books
Supports children over the summer as they move into the next school year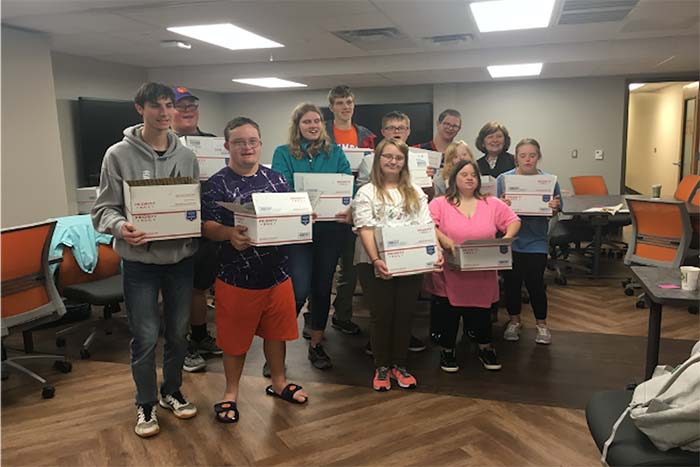 College of Education
College of Education | 101 Gantt Circle