Asian Longhorned Beetle
Asian Longhorned Beetle Update
There is now an ALB Emergency Quarantine Regulation for South Carolina. Please use the following link to view the quarantine language, ALB Quarantine and quarantine map, ALB Quarantine Area. 
The Asian longhorned beetle, Anoplophora glabripennis, was first detected in the United States in 1996 and likely arrived via wooden shipping crates or dunnage used in transporting goods from Asia. Asian longhorned beetle populations are currently in Ohio, New York, Massachusetts, and as of 2020 in South Carolina. Asian longhorned beetles feed primarily on maple trees, willows, elms, and birches, but have been known to use horse chestnuts, poplars, and a few other trees as hosts. The loss of trees to this pest species throughout the country could spell huge economic losses for land and homeowners and the nursery and forest industries. Asian longhorned beetles can be transported to new regions and states through the movement of firewood, stumps, roots, branches, and other infested tree debris or firewood.
Mature Asian longhorned beetles can range from one to one-and-a-half inches long, with four-inch long antennas. The beetles are characterized by black and white coloration and bluish feet. In Asia, the Asian longhorned beetle is called the starry beetle because of the irregular pattern of white spots on the beetle's wing covers. The antennae of the beetles are also alternating black and white banded. Trees that are targeted by this pest species are typically destroyed from the inside-out as the Asian longhorned beetle larva feeds on the xylem and phloem, tissues that transport water and nutrients throughout the living tree. Mature beetles leave the trees they have been feeding in, making exit holes as big as a ballpoint pen, around late May through October. Symptoms of the beetle's presence include sap oozing from the exit hole and sawdust on the lower tree branches.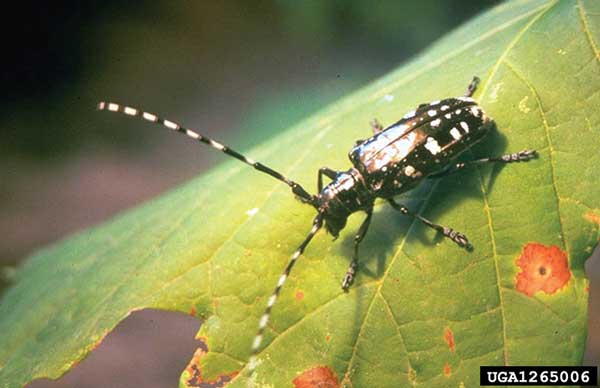 If you think you have found an Asian longhorned beetle or an infested tree, please take photos if possible and contact the ALB Program with location information at stopalb@clemson.edu  or 843-973-8329.
| | | |
| --- | --- | --- |
| Regulations | Publications | Related Links |
| | | |