Clemson's Welcome Week is the exciting time when new students are arriving on campus for the start of their first semester. The programs and events in Welcome Week are an integral part of your transition to Clemson life. These activities and programs occur during your first week on campus to help you make academic and social connections, which will contribute to your success. At the heart of this program are Clemson's core values: integrity, honesty and respect.
A detailed version of this schedule can be found via the "Clemson University Events" App. After downloading and opening the app, search "Welcome Week 2022".
2023 Welcome Week Schedule

Events marked * are mandatory

2023 Welcome Week Schedule

Event

Wednesday, Aug. 16, 2023

Panhellenic Recruitment Begins

Thursday, Aug. 17, 2023

Move In

Friday, Aug. 18, 2023

Move In

Saturday, Aug. 19, 2023

Move In

Sunday, Aug. 20, 2023

Clemson Leader Day*
Military & Veteran Welcome Week BBQ
Welcome Rally

Monday, Aug. 21, 2023

New Student Convocation*
Clemson Athletics Showcase
Entering Year Photo
President's Cookout
Arcade at the Library
Academic College Events

Tuesday, Aug. 22, 2023

ASC Jumpstart Workshops — 8:15–11:30 a.m.
Panhellenic Bid Day
Tiger Prowl

Wednesday, Aug. 23, 2023

Classes Begin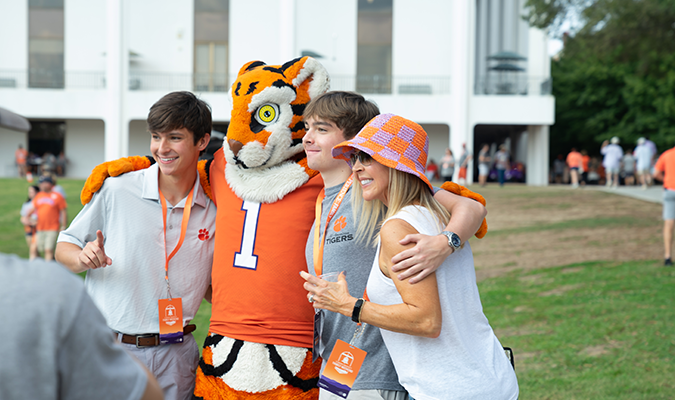 Welcome Week Student Leaders
Welcome Week Exec
Welcome Week is planned and executed by a student Executive Board throughout the previous Spring Semester. Executive Board is made of Vice Presidents and Chairs each tasked with coordinating a functional area of Welcome Week. Welcome Week Exec has served as Welcome Week Leaders prior to their leadership role. If you have served as a Welcome Week Leader and would like to serve on Exec, please see the Welcome Week TigerQuest page.
Welcome Week Leaders
Welcome Week Leaders are student volunteers who work directly with incoming students welcoming them to the campus and Clemson community. Welcome Week Leaders will help facilitate Welcome Week events and create connections with our incoming Clemson students. If you are a current Clemson student and have an interest in serving as a Welcome Week Leader, please see the Welcome Week TigerQuest page.
If you have any questions, please contact our Orientation team in the Center for Student Leadership & Engagement by email at or by phone at 864-656-0515.
Center for Student Leadership and Engagement
Center for Student Leadership and Engagement |