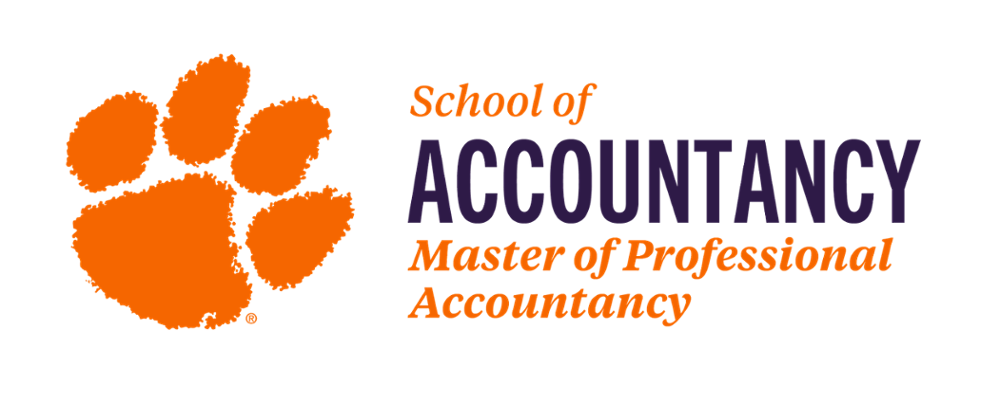 Current MPAcc Students
Everything you need in one place! On this page, you can find links to the student handbook, course schedules and classroom assignments, parking information and more.
Student Handbook
The Clemson MPAcc Student Handbook is designed to provide information to assist students in succeeding in all areas of the Clemson MPAcc experience and to answer some of the most common questions students typically have. The MPAcc program strongly recommends that everyone consult the most current version of the handbook each time they need a policy reference to ensure they are accessing the most recent information.
Parking
Students have the option of purchasing an access card to Richardson Street Parking Garage. Richardson Street Parking Garage is located conveniently within walking distance from the Greenville ONE building. Students will be given the option of paying monthly or by semester through a negotiated price with Greenville Parking Services. Students who wish to purchase access should go to the Greenville Parking Services Office to complete an application and pick up their access card.
Greenville Parking Services will then issue the student an access card that, upon payment of the negotiated semester price, will allow them access to the garage at any time.
**During major events, access cards may be disabled, and event parking fees may apply to gain entry into the parking deck.
Free Wall Street Journal Access
Clemson University has partnered with The Wall Street Journal to provide students, faculty and staff with a free, all-access digital subscription to The Journal. Use your WSJ subscription to research topics relevant to your courses, follow companies and industries that interest you, and track real-time stories and trends.
Activate your Wall Street Journal All Access subscription: www.wsj.com/clemson
Greenville Housing and Apartment Resources
Clemson University does not offer University housing in the Greenville area. The following housing guides are only meant as a resource - Clemson University programs are not responsible for student housing. The apartments listed in this guide are not a comprehensive list of all housing options in Greenville; this list includes places where Greenville ONE students have lived/are currently living in Greenville, as well as new apartments that are close to the downtown area. Please research the Greenville area and where you want to live in relation to Clemson Greenville ONE location at 1 North Main Street, Greenville, SC, 29601.
School of Accountancy
School of Accountancy | 424 Wilbur O. and Ann Powers Hall, Clemson, S.C. 29634