Clemson University has updated its travel suspension for Spring 2021 programs. Please visit the Travel Warnings page for details and make sure that you are regularly checking Clemson University's COVID-19 website for important university-wide updates.
The unique dual-degree MBA/MIB between Clemson University and the IÉSEG School of Management affords graduate students the opportunity to earn complimentary business degrees from two distinct and highly regarded institutions located in two of the most vibrant international business destinations in the world.
Students spend 21 months - one year in Greenville, S.C., and one in Paris, France - studying with leading business faculty and graduate with two advanced degrees: a Master of Business Administration (MBA) from a leading U.S. institution and a Master of International Business (MIB) from one of the top business schools in France. All instruction is in English, although students will be encouraged to study French. Instructional opportunities will be provided while in the U.S. and France.
Throughout the program, students are immersed in exciting learning and business cultures, which prepares them for global careers upon graduation. Further, students are provided the opportunity to build social and business networks in both locations, enhancing their business reach and leadership potential. Students finish the program with a unique perspective and understanding of international finance, marketing, economics and management - from both European and American perspectives - giving them a competitive edge in the global marketplace.
About the IÉSEG MIB in Paris, France
Located in the largest business community in Europe - La Défense in Paris - the IÉSEG MIB program helps students develop multicultural competencies that lead to a systematic and global mindset. The IÉSEG MIB program provides a sound understanding of world culture and international business practices. Building on the foundation provided by the Clemson program, the MIB expands the student's capability to manage business within a variety of international contexts. Students are offered an extensive portfolio of open electives that address topics such as international negotiation, cross-cultural management, sustainable development and global social responsibility.
To complete the curricula, there is a series of events in which students can interact with business, political and community leaders, furthering their experience.
Dual-degree overview
Students experience an immersion in both North American and European perspectives on business.
All instruction is in English, although French language courses are available and students are encouraged to take advantage of this opportunity.
During the first year, students study business principles at the Clemson University campus in Greenville, S.C., USA. During the second year, students study international business with an opportunity to pursue a focus area in Paris, France.
The dual degree is particularly well suited for students with a business undergraduate degree and a minimum of two years post-undergraduate work experience. Students with a non-business undergraduate degree or less than two years' work experience may be considered, but additional foundation courses, as specified in the Clemson MBA curriculum, will be required.
The two degrees are awarded at the successful completion of the second year in Paris, France.
By studying business within these two locations, students truly get the best of both worlds: two internationally respected and complementary degrees, multicultural awareness and experience, and a lifelong network of professional peers and mentors.
Coursework, Housing, Financial Information and Application
Visit Clemson's Study Abroad website for additional information, including housing options, financial details, and application deadlines.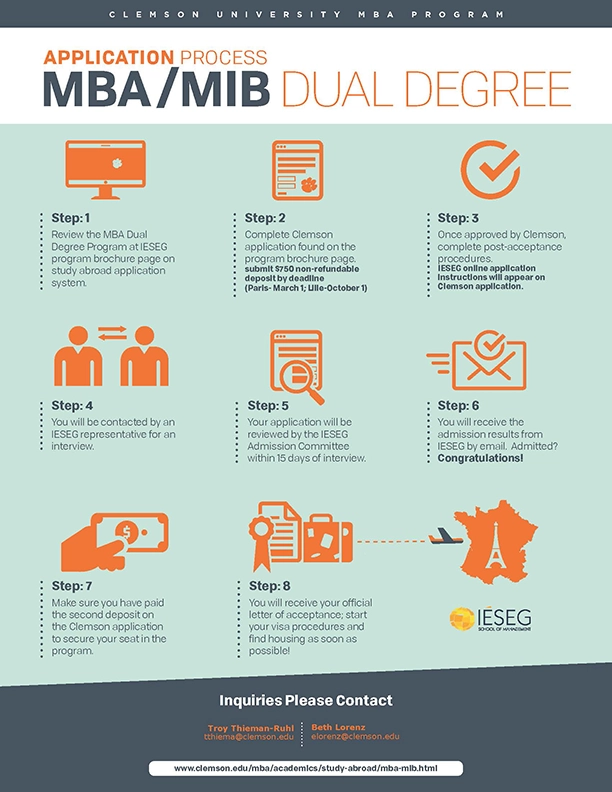 Image Description

Clemson University MBA Program Application Process MBA/MIB Dual Degree

Step 1: Review the MBA Dual Degree Program at IESEG program brochure page on study abroad application system.
Step 2: Complete Clemson application found on the program brochure page.submit $750 non-refundable deposit by deadline (Paris- March 1; Lille-October 1).
Step3: Once approved by Clemson, complete post-acceptance procedures.IESEG online application instructions will appear on Clemson application.
Step 4: You will be contacted by an IESEG representative for an interview.
Step 5: Your application will be reviewed by the IESEG Admission Committee within 15 days of interview.
Step 6: You will receive the admission results from IESEG by email. Admitted? Congratulations!
Step 7: Make sure you have paid the second deposit on the Clemson application to secure your seat in the program.
Step 8: You will receive your official letter of acceptance; start your visa procedures and find housing as soon as possible!

IESEG School of Management
Inquiries please contact Gabriela Peschiera at gpeschi@clemson.edu or Katy Lentz at klentz@clemson.edu.
www.clemson.edu/mba/academics/study-abroad/mba-mib.html
For more information on this unique opportunity, please contact:
Clemson MBA Program
Clemson MBA Program | 1 North Main Street, Greenville, S.C. 29601