Erin Ash, Ph.D.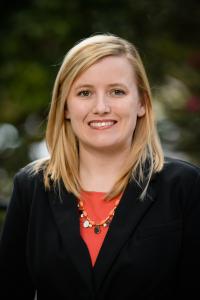 Associate Professor
Contact
Affiliated Faculty, External To CAAH
Email: ash3@clemson.edu

Dr. Erin Ash is an Associate Professor in the Department of Communication. Her research focuses primarily on representations of social groups in media, with an emphasis on the cognitive and affective processes that explain media-based stereotyping. Her work has examined the relationship between media portrayals and social cognition across a variety of contexts, including news, sport, video games, and film/entertainment. Her work examining these and other social issues related to media has appeared in such journals as Howard Journal of Communications, Journal of Sports Media, and Journal of Social Issues. She has also presented at national conferences, including the annual conventions for the National Communication Association, International Communication Association, Broadcasting Education Association, and the Association for Education in Journalism in Mass Communication. Dr. Ash teaches media theory and research methods courses in the department.
College of Architecture, Arts and Humanities
College of Architecture, Arts and Humanities | 108 Strode Tower, Clemson, SC 29634