Dustin Massey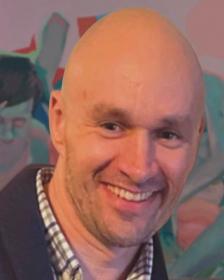 Lecturer of Art
Contact
Website: https://www.lmasseyart.space/
Email: dmassey@clemson.edu
Education
M.F.A., Clemson University; B.F.A., East Carolina University
The objective of my research is to investigate the current state of painting. I probe the intersection of painting with other media, specifically digital technology, and the new ways this changes painting and studio practice. I do this through making-led practice that asks what a painting is and how it can be made.
To achieve these goals, I conduct practice-led research to producing bodies of artwork that ask new questions of the painting discipline and its intersection with technology and visual culture, particularly the areas of digital fabrication and our obsessive screen culture. My thesis aimed to advance my understanding of the recent advancements in painting and technology.
We live in a complex environment where television, marketing ads, social media, and teen culture are all intertwined. This media provides us with resources for constructing and expressing our identities. This mediated world shapes our view of reality and how we interpret our own identity and our relationships. I acknowledge and embrace these images that helped shape and construct my identity by incorporating the language of comics and visual narrative, and the related implications on painting. This research focuses on the specific ability of the graphic storytelling form to educate, and how this can be applied in the classroom.
Websites: WWW.LMASSEYART.SPACE / WWW.PATREON.COM/DLMASSEYART / Instagram@dustinleemassey
College of Architecture, Arts and Humanities
College of Architecture, Arts and Humanities | 108 Strode Tower, Clemson, SC 29634