Clare Mullaney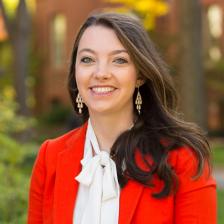 Assistant Professor, Disability Rhetorics
Contact
Office: 605 Strode
Email: cmullaney@clemson.edu

Education
Ph.D., University of Pennsylvania; M.A., University of Pennsylvania; A.B., Bryn Mawr College
Courses
ENGL3100: Practice of Criticism, ENGL3990: American Literature II, ENGL4110: Literary Editing, Disability Narratives, Disability Rhetorics
Research Interests
Research Interests: disability studies, nineteenth- and twentieth-century U.S. literature, material text studies, and reading methods
Clare Mullaney's research and teaching work at the intersection between nineteenth- and early twentieth-century U.S. literature, disability studies, and material text studies. Her book project, American Imprints: Disability and the Material Text, argues that acknowledging texts as made objects brings into focus how turn-of-the-century authors grapple with physical and mental impairments at the level of textual form. Her work has received awards from the American Antiquarian Society, the Emily Dickinson International Society, the Library Company of Philadelphia, the New York Public Library, and the Society for Disability Studies. Currently, she is a junior member of the Andrew W. Mellon Society of Fellows in Critical Bibliography, and she has previously taught at Bryn Mawr and Hamilton Colleges.
Selected Professional Works
Journal Articles & Book Chapters (Published)
"'Not to Discover Weakness is the Artifice of Strength': Emily Dickinson, Constraint, and a Disability Poetics." J19: The Journal of Nineteenth-Century Americanists. 7.1 (2019): 49-81.
"Emily Dickinson, Disability, and Crip Editorial Theory," The New Emily Dickinson Studies, ed. Michelle Kohler, Cambridge University Press. May 2019, pp. 280-298.
"No Pity: Mary Wilkins Freeman, Disability, and the 'Tears of Things.'" Arizona Quarterly: A Journal of American Literature, Culture, and Theory. Forthcoming.
"Reimagining Classroom Participation in the Era of Disability Justice and COVID-19." Pedagogy. Forthcoming.
Journalism
"The Social Advantage of Pockets." Object Lessons Series, The Atlantic. December 21, 2016.
"The shift online has finally made space for disabled students." Times Higher Education. February 8, 2021.
Reviews & Interviews
"Antisociality and Neuroqueerness." M. Remi Yergeau's Authoring Autism: On Rhetoric and Neurological Queerness. GLQ: A Journal of Lesbian and Gay Studies. 26.2 (2020): 355-357.
"Disability Studies: Foundations and Key Concepts." JSTOR Daily. April 13, 2019.
College of Architecture, Arts and Humanities
College of Architecture, Arts and Humanities | 108 Strode Tower, Clemson, SC 29634