Clemson Ice Cream
'55 Exchange
Where Tradition Flavors the Future! The '55 Exchange is a student-run business enterprise that designs, manufactures, sells, and serves Clemson's world-famous ice cream, shakes, coffee chillers, fresh cold brew coffee, smoothies, and other Clemson products like blue cheese and t-shirts. Made possible by a generous gift from the Class of 1955 all revenues generated through this student-led entrepreneurial center go to support Clemson students and their academic and professional training.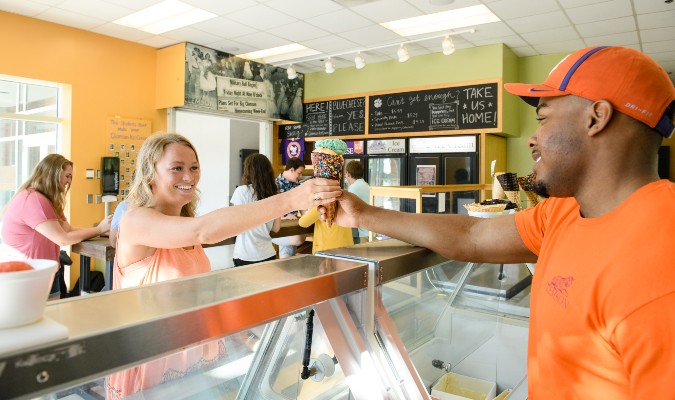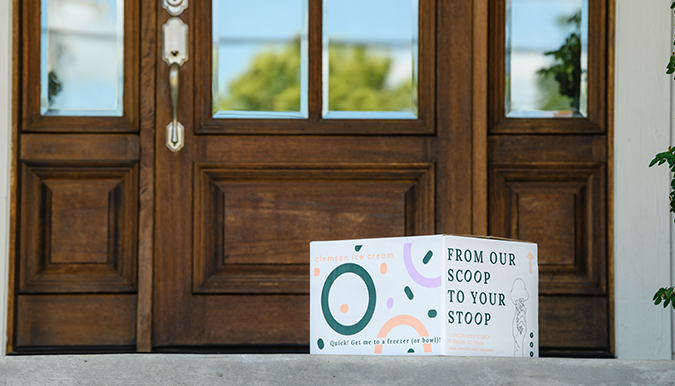 From Our Scoop to Your Stoop
Nationwide Shipping 6-Pack Pints
Now you pick your favorite flavors! Each month your choices will be Vanilla Bean, Golden Tiger, Peach, Dark Choc Choc Chip, Mint Choc Chip, and a Flavor of the Month. At check-out, you will be prompted to pick the flavors you want. You must select a flavor in each of the six pull-down boxes. They can all be the same flavor or you can pick any combination of flavors. Orders ship the second week of each month.
Order Your Ice Cream
Handcrafted by College Students™
Our ice cream is made by students at Clemson that have a passion for good food. From flavor creation to scooping your pints, students have had their hands on every step of making Clemson's yummiest ice cream and frozen desserts. Crafted with you in mind, our bold and adventurous Wild Tiger™ signature flavors are an expression of the enduring Clemson Spirit while our Classic Original flavors represent our Agricultural Heritage and the Clemson Family!
"As the student manager for Special Projects, I gained a greater understanding of how the food science field actually works – not just head knowledge and facts from a classroom, but real understanding that comes from in-person experience. Crisis management, time sensitivity, and critical decision-making can't be taught in a classroom, but I learned all of these things through my responsibilities at the '55 Exchange."

Sam Lopane

BS 2017, MS 2018

R&D Science and Technology Manager at Freshly/Nestle
Campus Scoop Shop
Stop In For Something Sweet
The '55 Exchange is Clemson's very own student-run ice cream enterprise. We are dedicated to producing consistently delicious, high-quality products and are proud to run a self-sustaining business that engages students in all aspects of the operation, from manufacturing to sales. Whether your sweet tooth prefers ice cream cones, smoothies, sundaes, shakes, or a fresh cold brew coffee, we've got you covered!
Our Products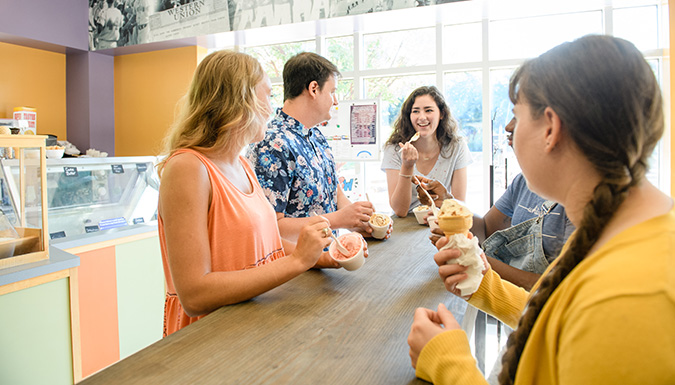 Clemson Ice Cream - '55 Exchange
Clemson Ice Cream - '55 Exchange | 720 McMillan Rd, Clemson, SC 29634