Conducted outdoors on our 600-acre Clemson research facility in northeast Columbia during the fall, School Days at the Clemson Sandhill Research and Education Center is designed for Kindergarten through Second Grade students with the flexibility to adapt for pre-K and Third Grade learners.
The program features South Carolina crops and their history, lessons on the life cycle of plants, the impact of our stewardship and use of water, a giant maze and a tractor-pulled hayride.  This interactive, hands-on experience is in conjunction with Clemson Extension's 4-H Program and the lessons are led by Clemson Extension's Richland County Master Gardeners. 
Sessions begin at 9:30 in the morning and are over by lunch. Schools have the option to bring their lunch and stay to enjoy the grounds afterward. Check our links section for the latest information and to access the online registration form. 
Since its inception in 2011, we have welcomed over 10,000 students and teachers eager to strengthen their knowledge of agriculture and the environment. 
Reservation Form
News Feature
4-H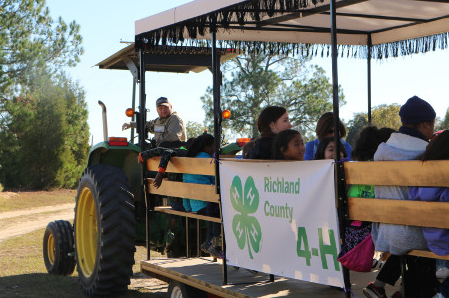 Cody Bishop, Sandhill REC farm manager, talks with students from Bethel-Hanberry Elementary School about research conducted at Sandhill REC.
Sandhill Research and Education Center
Sandhill Research and Education Center | 900 Clemson Road, Columbia, SC 29229