Employment Opportunities with CUFD
Are you a compassionate, goal-oriented, self-starter? Do you thrive in a physically challenging, dynamic, team centered environment? Does serving your community while learning new skills, and pursuing educational opportunities sound like your dream job? We would like to hear from you! The Clemson University Fire and EMS Department is looking for hard working individuals with a passion for learning, fighting fire, and providing outstanding emergency medical care. We are building a diverse team of highly skilled professionals with a unified goal: providing Clemson University, and the surrounding communities, with elite fire suppression and fire prevention education, and emergency response services. We would love for you to be a part of our mission.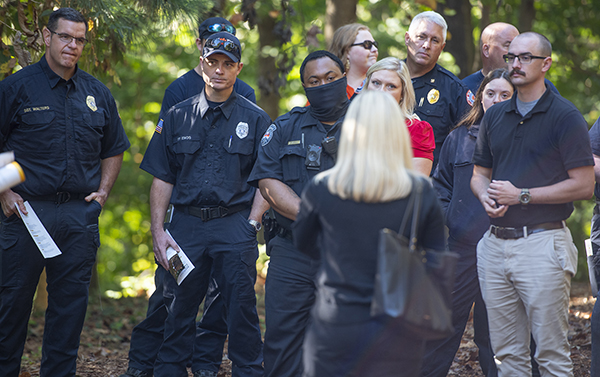 Preparing for tomorrow's challenges
CUFD offers unique opportunities for training, career advancement, and professional development. We hold regular in-service training, both in the classroom and at our burn building. Additionally, the university offers a college incentive program, allowing employees to prepare for leadership positions.
Do you have a specialty skill or interest? Our department trains several special rescue teams to respond to almost any emergency, including hazmat, swift water, rapid divers, high-angle, low-angle, confined space, and trench rescue.
Some of our special assignments include providing emergency standby coverage for all Clemson University athletic events, as well as other large public gatherings on campus.
CUFD operates three shifts on a rotating 24-hour shift (24 hours on duty, 48 hours off duty) with shift change at 07:00 each day. Each shift is comprised of 13 full-time firefighters that are cross trained as EMT, Advanced EMT, or Paramedic. In addition to the 39 full-time shift firefighters, the department has 6 additional full-time cross-trained administrative staff members who work a 40-hour workweek schedule.
Eligibility
Be at least 18 years of age.
Be a U.S. citizen.
Have a high school diploma or equivalent.
1+ years of consecutive firefighting and/or EMS field experience.
Current NREMT & SC EMT certification and/or NFPA Firefighter I
NIMS-ICS 700 and 100
Have or be able to obtain a valid South Carolina driver's license.
Have not had a driver's license suspension during the last five years for DUI.
Never been convicted of a felony or criminal domestic violence.
Never been convicted of a crime of moral turpitude or a misdemeanor carrying a sentence of more than one year.
Have not defaulted on a student loan.
Have a good credit history.
All personnel must have CPR-BLS certification, and the ability to maintain continuous medical control sponsorship/authorization by the department.
Eligible candidates may seek departmental sponsorship to attend recruit school either through the South Carolina Fire Academy, or local training opportunities.
Preference is given to candidates with paramedic certification. Additionally, eligible candidates may apply for departmental sponsorship of paramedic training at Upstate EMS Council.
Benefits
State Retirement Plan - PORS, with Supplemental Retirement Plan Participation
State Health Insurance
Paid Annual Leave, Sick Leave, and Holiday Comp Time accruals
Educational benefits from Clemson University
SC Firefighters Association 1% Fund Membership
Clemson University is proud to allow educational equivalency for military technical certifications and training that directly relates to the job duties.
Starting Salary Ranges
Firefighter/EMT $42,196 - 46,265
Firefighter/Paramedic $51,624 - $56,866
CUFD has a step-based salary structure and career path based on years of experience and training and certifications.
Commitment to Diversity and Inclusivity
Clemson University is an AA/EEO employer and does not discriminate against any person or group on the basis of age, color, disability, gender, pregnancy, national origin, race, religion, sexual orientation, veteran status or genetic information. Clemson University is building a culturally diverse faculty and staff committed to working in a multicultural environment and encourages applications from minorities and women.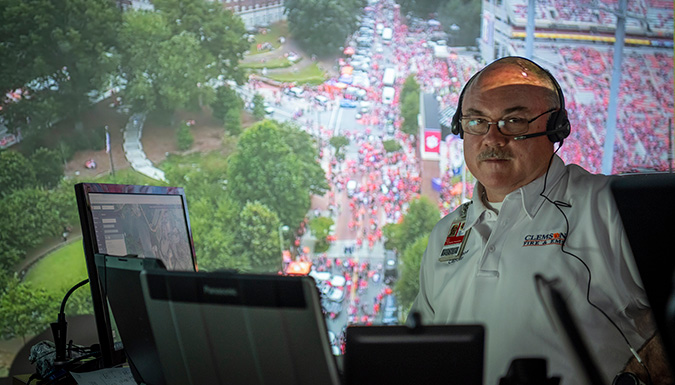 Special Event EMT / Paramedic
Fire and Emergency Medical Services has limited employment opportunities for the specific purpose of staffing special events. These personnel are not regular members of the department, and are not normally otherwise affiliated with the University itself.
Clemson University Fire Department
Clemson University Fire Department | 1521 Perimeter Road, Clemson, SC, 29634-4014