Clemson University AED Program
Clemson University, in pursuit of providing a safe and healthy campus to all faculty, staff, students, and visitors has established an AED Program to coordinate and facilitate the distribution of AED devices on Clemson University campuses.
Contact Us - aedprogram@clemson.edu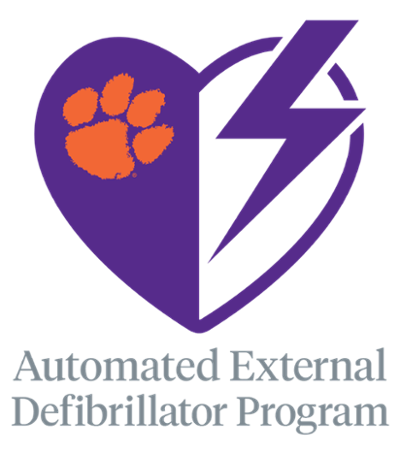 Clemson University AED Program Guidelines
 The use of AED's will be in compliance with the responsibilities and procedures outlined in this program and consistent with guidelines outlined by the State of South Carolina. Click here for the SC State Law for AED's.
AEDs and Sudden Cardiac Arrest
Sudden cardiac arrest occurs when the heart stops beating. This condition affects nearly 400,000 Americans annually, and is responsible for 1 death every 37 seconds in the United States. Each year, sudden cardiac arrest claims more lives than cancer, diabetes, respiratory diseases, and accidental trauma combined. AEDs are a vital link in the chain of survival, and have been clinically proven to increase survival from sudden cardiac arrest. Studies have shown that the early application (within 3-4 minutes of the onset of cardiac arrest) of an AED can increase survival rates by nearly three times.
An automated external defibrillator (AED) is a small, portable device that analyzes the heart's rhythm for any abnormalities and, if necessary, directs the rescuer to deliver an electrical shock to the heart of someone suffering from sudden cardiac arrest. This shock, called defibrillation, may help the heart to reestablish an effective rhythm. Click here to watch a video.
Out-of-hospital Chain of Survival 
Recognition of cardiac arrest and activation of the emergency response system
Early cardiopulmonary resuscitation (CPR) with an emphasis on chest compressions
Rapid defibrillation
Advanced resuscitation by Emergency Medical Services and other healthcare providers
Post-cardiac arrest care
Recovery (including additional treatment, observation, rehabilitation, and psychological support)
AED Program Participation FAQs