Clemson University Fire Department Services and Programs
Our primary response area is the main campus of Clemson University centered around Tillman Hall on Calhoun Memorial Drive. We also provide contracted fire suppression response to the City of Clemson geographically adjoining and nearly encompassing the University campus. Lake Hartwell comprises the remaining campus border.
Our department proudly serves the Clemson community by providing a wide range of prevention and rescue services. Please contact us about any of your safety concerns, or emergency response needs. You can help us keep our community safe by alerting us to small problems before they become major ones.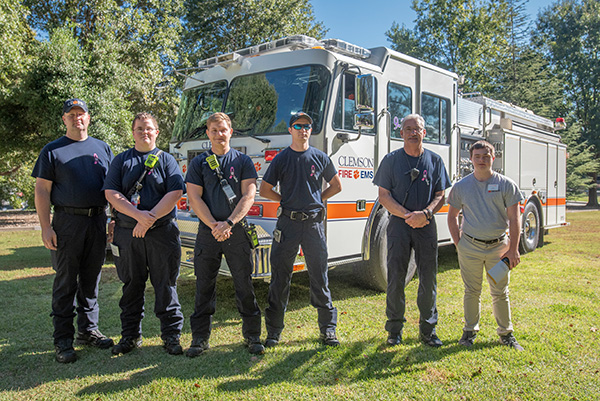 Emergency Medical Services
Rescue
Fire and Emergency Medical Services is the designated rescue agency for campus. All personnel are trained to the Awareness level for all applicable types of rescue. Fire & EMS also maintains Operations or Technician Level rescue teams in several areas:
Water Surface Rescue
Water Sub-Subsurface Rescue
Vehicle / Mechanical Rescue
Confined Space Rescue
Vertical Rescue
Trench Rescue
The following is a description of each on-campus student housing facility fire safety system, including the fire sprinkler system.
All residential areas (residence halls and apartments) are equipped with sprinklers and life safety systems with the exception of Thornhill Village (an on-campus single story, duplex community). The systems are all automatic sprinkler systems that are electronically monitored 24 hours, seven days a week by the Clemson University Police Department. The Residential Facilities Office has three NICET certified technicians on staff. These three technicians — one Level One, one Level Two and one Level Three — who perform the routine inspections, testing and maintenance of the sprinkler systems. An outside contractor provides the inspection and testing of the alarm systems (electrical) as well as the fire extinguishers.
Each residence hall (but none of the apartment areas) is equipped with an emergency generator that is designed to operate immediately once there is a loss of power and the routine testing of the generators is performed by Residential Facilities. The generators provide power for emergency lighting and the fire protection equipment in the event of a power failure. 
All residence hall kitchens are equipped with an ABC fire extinguisher. All on-campus apartment communities are also equipped with an ABC fire extinguisher in the kitchen area.
Students, faculty and staff are encouraged/required to participate in fire safety training programs offered virtually through the Tiger Training system.

Clemson University has several policies or rules on portable electrical appliances, the possession of dangerous objects or materials, smoking and open flames (such as candles), procedures for evacuation, and other fire prevention and safety concerns.