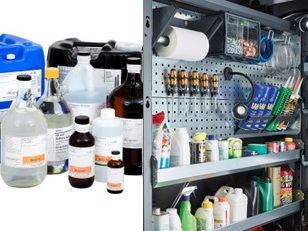 The transportation of Hazardous Materials is sometimes required between Clemson University facilities within the state for research purposes as well as job functions. Clemson University does not endorse the use of personal vehicles or public transportation for these functions and has formed a pilot program, "Clemson HazMat Transportation Services", to determine the degree of need for a transport service. Upon request by a Clemson Faculty, Staff or Student, OES personnel will assist with the packaging and delivery of hazardous materials to all Clemson University facilities using a Clemson University vehicle.
What is the Hazmat Transport Service?

The Department of Transportation 49CFR 171.1(d)(5) provides a government exemption stating that "The transportation of a hazardous material in a motor vehicle operated by a Federal, State or Local government employee solely for noncommercial Federal, State or local government purposes will be exempt from the transportation regulations."

Therefore, Clemson University has developed a pilot program to offer transportation services of hazardous materials for faculty, staff and students between Clemson University facilities statewide. This program is managed by Occupational and Environmental Safety. OES staff will assist with proper packaging and labeling for transport. OES will utilize Clemson vehicles to pick up and deliver the hazardous materials for you. Please use the Transportation Services Pickup Request form, (link below). Provide the name and email address of the person responsible for accepting the delivery in the Supplies Needed/Additional Information section at the end of the form. OES will email both you and the receiver with the date and estimated time of pickup and delivery.

OES requests that you give us a 3 day notice to allow us time to process your request, gather the materials needed for packaging and schedule the pickup and delivery with both you and the receiver of the material.

Note: OES Staff will not leave any hazardous materials unattended so please make sure that the person receiving is aware of this. If no one is available to receive the material, we will bring back to you and you will be required to submit another request.

Contact the Hazmat Transport Service Manager for more information.

Use of personal vehicles (Important)

The use of personal vehicles and public transportation for transport of hazardous materials is prohibited at all Clemson University facilities.  This includes but is not limited to dry ice, liquid nitrogen, laboratory chemicals, gas cylinders, biological agents, radioactive materials and materials of trade.  For guidance and assistance on transporting hazardous materials Contact OES.
Hazardous Materials Blog & Events
Clemson Research News