James P. Clements, Ph.D., President, Clemson University
Official (formal) high resolution portrait available for download.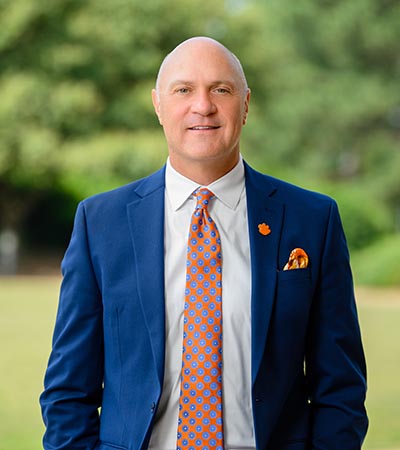 James P. Clements became Clemson University's 15th president on Dec. 31, 2013. Since his arrival, the power of the Tiger Paw has never been higher, driven by an increasing academic reputation and the national exposure from our on-going success in athletics.
Under Clements' leadership, Clemson has raised the bar in admissions, enrollment, research, diversity, graduation and retention rates. Clements has led the effort to raise more than $1 billion in private funds since he arrived at Clemson. In addition, our main campus and our facilities around the state are currently undergoing the largest construction boom in the history of the university with more than $900 million in new projects.
Clements is a nationally recognized leader in higher education who has served as president of a university in three different athletic conferences – the Big East, the Big 12, and the ACC, where he served as the 2016-17 chair of the ACC Council of Presidents and currently serves as the presidential representative for the ACC-ESPN network partnership. He also served as Chair of the Board of Directors for the Association of Public and Land- Grant Universities in 2015, and continues his service in a national leadership role.
He is a member of the Board of the American Council on Education, where he also served as chair of the ACE Commission on Leadership. In addition, he served on the executive committee of the APLU's Commission on Innovation, Competitiveness and Economic Prosperity.
Clements was the only university president selected for the 15- member Innovation Advisory Board to the U.S. Department of Commerce. He also served as the co-chair of the National Advisory Committee for Innovation and Entrepreneurship 2.0, again serving as the only university president. He was nominated for, and participated in, the 81 st Joint Civilian Orientation Conference through the U.S. Department of Defense where he was one of only a few dozen people selected in the country.
Clements serves on the Executive Committee for the Council on Competitiveness and on the Executive Committee of the Board for the Business Higher Education Forum.
He also was awarded an honorary degree as Doctor of Public Education from his Alma Mater, the University of Maryland – Baltimore County.
Before he came to Clemson, Clements served as the president of West Virginia University for nearly five years. During that time, WVU set significant records in private fundraising, research funding, academic rankings, application, diversity, enrollment, and retention and graduation rates.
He was a leader in West Virginia – chairing the boards of the West Virginia United Health System, the WVU Hospitals and the WVU Research Corporation.
Clements was born in Arlington, Va., but spent the majority of his life in Maryland before relocating to West Virginia before his move to Clemson.
The grandson of a coal miner and a firefighter, and son to parents who taught him and his three older siblings that education was the key to a better life, Clements is a first generation college graduate. This was a key reason he pursued a life and career in higher education – to give others the same opportunity he was given by getting a formal education.
He has published and presented more than 75 papers in the fields of higher education, leadership, strategic planning, project management, computer science and information technology. He also served as principal investigator or co-investigator on more than $15 million in research grants.
Prior to his service at WVU, Clements served as provost and vice president for academic affairs, vice president for Economic Development & Community Outreach and the Robert W. Deutsch Distinguished Professor of Information Technology at Towson University, the second largest university in the University System of Maryland, where he was a four-time winner of the Faculty Member-of-the-Year Award, given by Towson students. He was a member of the Colonial Academic Alliance as part of the Colonial Athletic Conference.
Clements' Successful Project Management book is now in its seventh edition and is published in multiple languages and used in numerous countries.
Clements and his wife, Beth, have been married for 29 years and have four children; Tyler, Hannah, Maggie and Grace; two sons- in-law, Tanner Coombs and Max Kinser; a daughter-in-law, Margot Murray Clements; and one grandson, Cannon Coombs.
Education
Ph.D., Operations Analysis
University of Maryland, Baltimore County, 1993
M.S., Operations Analysis
University of Maryland, Baltimore County, 1991
M.S., Computer Science
John Hopkins University, Whiting School of Engineering, 1988
B.S., Computer Science
University of Maryland Baltimore County, 1985
Leadership Positions
Atlantic Coast Conference, Board of Directors
Member and Past Chair
American Council on Education
Member, Board of Directors;
Previously chaired the Commission on Leadership
Association of Public and Land-grant Universities
Previously chaired the Board of Directors
Previous Member, Executive Committee and Commission on
Innovation, Competitiveness and Economic Prosperity;
National Advisory Council on Innovation and Entrepreneurship
(NACIE 2.0)
Past Co-Chair
National Innovation Advisory Board
Past Member
The Business-Higher Education Forum
Member, Executive Committee, Board of Directors
Council on Competitiveness
Member, Executive Committee; Past Co-chair of the Energy & Manufacturing Competitiveness Partnership Committee
Association of Governing Boards
Member, Council of Presidents
Faculty Positions
Professor with a joint appointment in Computer Science & Industrial Engineering, Clemson University
Professor of Computer Science and Electrical Engineering, West Virginia University
Robert W. Deutsch Distinguished Professor, Computer and Information Science, Towson University
Notable Numbers as President
Admissions
Undergraduate applications to Clemson increased 54 percent. Average SAT and ACT scores of incoming freshmen are at an all- time high. In fact, the 2019 freshman class had the highest average SAT and ACT scores ever (1318 and 29.3 respectively).
Student and Faculty Success
More Clemson students are competing for, and winning, national level scholarships and fellowships. The number of our students receiving these awards has increased significantly during the past six years, from 8 to 57.
Retention rate and graduation rate are at all-time highs. Clemson's freshman retention rate is 93% and our six-year graduation rate is more than 83%.
Total graduate student enrollment increased by 30% since 2013. Doctoral graduates are at an all-time high.
Faculty members earning national or international awards increased by 33% percent between 2013 and 2019.
The majority of Clemson students, 53%, graduate with no debt – compared to the national average of 35%.
Diversity and Inclusion
Clemson was one of just 15 schools across the country to be recognized by INSIGHT Into Diversity magazine with the Diversity Champion award. It is the third year in a row Clemson has received that award. Clemson also received the Higher Education Excellence in Diversity (HEED) award for fourth consecutive years from INSIGHT Into Diversity.
Under Clements' leadership, Clemson has seen a 66 percent increase in underrepresented minority undergraduate enrollment and a 102 percent increase in underrepresented minority graduate enrollment.
During that same time period, there has also been a 41 percent increase in the number of underrepresented minority faculty, and a 22 percent increase among underrepresented staff members.
Research
Since his arrival to the university, Clemson achieved – for the first time ever – and was reaffirmed as a Research 1 university by the Carnegie Classification for Institutions of Higher Education.
Since 2013, Clemson's total research expenditures have increased 44 percent to $219 million annually.
Clemson faculty were awarded 9 research grants in excess of $2 million in FY 2020, bringing the total since 2015 to 46.
In 2020, our faculty were awarded a record of nine national early career research awards – up from 4 in 2013.
Facilities
Oversaw more than $900M million in facilities construction and renovations so far at Clemson, and approximately $1.5 billion during his time at WVU.
Graduation
Celebrated more than 40,300 newly graduated Tigers, as of August 2020, and led the commencement ceremonies for nearly 22,000 graduates while at WVU.
Fundraising
Clements has helped to raise more than $1.8 billion in private funds during his two university presidencies. He oversaw record- setting fundraising every year at WVU and had six consecutive record-setting years at Clemson. He closed the Will to Lead Capital Campaign at Clemson, the largest fundraising effort in the history of the state of South Carolina.
At Clemson, the endowment has increased by nearly $250M million under his leadership. At WVU, the endowment grew by more than $500M during his tenure as president.
Athletic Success at Clemson
2 National Championships in football (2016, 2018)
5 Straight College Football Playoff Appearances (2015, 2016, 2017, 2018, 2019)
5 straight ACC Championships in football (2015, 2016, 2017, 2018, 2019)
Bowl Victories – Orange Bowl (twice), Russell Athletic Bowl, Fiesta Bowl (twice), Cotton Bowl
Sweet Sixteen in Men's Basketball (2018)
ACC Regular Season Champions in Men's Soccer (2019)
National Quarterfinal Appearance in Men's Soccer (2019)
Largest Turnaound in a Season – Women's Basketball (2019)
ACC Tournament Champions in Baseball (2016)