Campus Reservations and Events Employment
As a student-centered department, we seek to maximize learning opportunities by offering a wide variety of event and venue operations related jobs throughout the academic year and summer.
Our student employees take part in hands-on experiential learning that is focused on engagement, innovation, and professionalism that will prepare them for their postcollegiate careers.
Positions include:
Event Coordination

Guest & Client Relations

Human Resources & Financials Assistants

Reservation Services

A/V & Conversion Technicians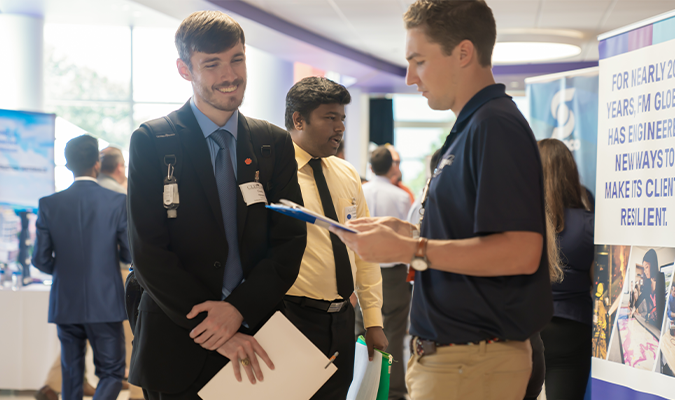 Students who are interested in employment with Campus Reservations and Events are encouraged to apply.
Staffing Model

Campus Reservations and Events has a tiered staffing model to maximize the experiential learning opportunities available to students.

Job Types

Business Operations: Responsible for human resources, marketing, financials, and other business activities of the department.

Event Services: Responsible for assisting clients with reserving venues and coordinating events.

Operations: Responsible for the operation, security, and management of Campus Reservations and Events venues.

For more information about positions available in our department, please contact. All available positions are posted in Clemson JobLink. 

Eligibility

Campus Reservations and Events extends employment opportunities to all students on Clemson University's campus. In order to be eligible to work in our department, you must be: 

Enrolled at least part time (6+ hours) as an Undergraduate or Graduate student of Clemson University

A student in good standing with Clemson University 

How to Apply

To apply for employment through Campus Reservations and Events, students must submit their resume via Clemson JobLink. You may locate all positions currently being hired in our department by typing our department name in the search bar. A hiring manager over the corresponding position will follow up with you regarding an interview if your qualifications match. 

Please note that any  Federal Work Study positions available will be offered through  Clemson University's Student Financial Aid office and is a separate process from our department's employment application. Please contact Financial Aid for more information.
Contact Us
210 Hendrix Student Center
Office Hours: Monday–Friday; 8 a.m.–4 p.m.
Setup Your Direct Deposit
Get familiar with our software systems.

Humanity

An email will be sent to you from Humanity asking you to setup your account. You may access the system at any time by going to website. Once you log in, click on the training tab and proceed with the system tutorial. Please direct any questions that you may have to by emailling us. 

Canvas

Upon hire you will automatically be enrolled in a CRE_studentemployees course on canvas. If this course does not appear in your Canvas courses, please email Kristi Cox.
Campus Reservations and Events
Campus Reservations and Events | Hendrix Student Center, Second Floor, 720 McMillan Rd, Clemson, SC 29631