Clemson University welcomed South Carolina's Delta Chapter of Phi Beta Kappa, the nation's oldest and most respected undergraduate honors organization, to campus in 2007. This honor is not lightly bestowed on universities, and it says a great deal for the quality of our faculty and students.
Clemson University counts itself among the 290 colleges and universities with a Phi Beta Kappa chapter, representing just 10 percent of the nation's institutions of higher learning.
To hold a chapter, a college or university must have Phi Beta Kappa representation in 10 percent of its liberal arts and sciences faculty. The national organization conducts a three-year review, in which faculty credentials and student achievements are analyzed, in addition to a detailed campus visit.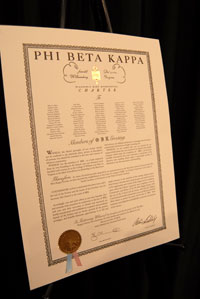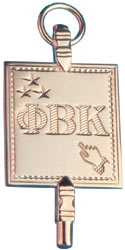 Symbolism of the Key
The Phi Beta Kappa key is the emblem of the society. It is inscribed on the front with the Greek letters Phi Beta Kappa, the initials of the words Philosophia Biou Kybernetes, meaning "The love of learning is the guide of life." In the lower right, a pointing hand symbolizing aspiration directs the eye diagonally upward to three stars which stand for the goals of the society: friendship, morality, and learning. On the reverse, the letters S P stand for Societas Philosophiae, the society of the love of learning. Below is the date of founding, Dec. 5, 1776. The name of the member, college and date of election can be inscribed above.