Clemson MBA Alumni Association
After graduation, you are no longer a student, but you are part of the Clemson Family for life! We would like to extend a welcome to all of our MBA alumni to participate in the programs, events and services offered by the MBA program. Our goal is to establish MBA alumni programs in which our alumni can express ideas and interact with faculty, staff, students and other alumni. Through these activities, the MBA program strives to strengthen ties between the University and its alumni. In addition, we also support and encourage communications and relations with the Clemson University Alumni Association. If you are interested in the Clemson MBA Alumni Association, please contact Caroline Aneskievich, President.
Get Involved
Contact our MBA Alumni Engagement Managers for more ways to get involved with Clemson MBA and the Alumni Association!
mbaalumni@clemson.edu
Featured Alumni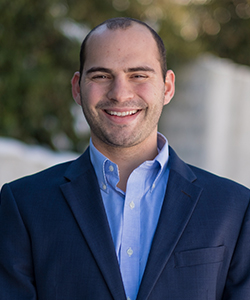 Josh Doran
Data Scientist, VisioStack
B.S.'14, MBA,'16
By Madison Hudgins
Josh Doran is currently a Data Scientist at VisioStack, a Greenville-based company that provides data management and business intelligence services for the transportation industry. VisioStack recently landed a major Small Business Innovation Research grant from the U.S. Department of Transportation for the development of AXIS, a drone-based inspection system that will improve traffic safety at all U.S. highway-rail crossings. Read more.
Read more Clemson MBA alumni stories.
Clemson MBA Program
Clemson MBA Program | 1 North Main Street, Greenville, S.C. 29601