The Clemson MBA Office of Career Services
Recruiter & Employer Resources
At the Clemson MBA Office of Career Services, we understand that companies not only encourage, but expect innovation at every level of the workplace, and we look forward to matching your organization's employment needs with exceptional MBA candidates. Our registered corporate coaches empower students to learn more about themselves and their ideal job fits and are committed to helping managers and HR professionals from organizations across the country meet and hire outstanding talent.
Meet Jamie Patterson, Director of Career Services & Student Experience
Employer Events and Resources
Whether you're seeking interns for a special project, an opportunity to showcase your company culture, or a chance to give back by becoming a mentor, we're here to help you get connected with the Clemson MBA Family.
Employer Spotlights
Showcase your company, the career paths, culture, and job positions that you are recruiting for.
Resume Books
Streamline the recruiting process by browsing resumes of MBA candidates and recent graduates.
Job Postings
Post your job openings with us and let us help you review resumes and connect with talent.
Speaking Opportunities
Connect with our students through professional development presentations and mock interviews.
Networking Forums
Interview our students in private, 1:1 meetings during these biannual, half-day events.
Career Fairs
Several career fairs are offered throughout the year to recruit current students and alumni.
On-Campus Interviews
Utilize our beautiful space at Greenville ONE to conduct your interviews.
Mentorship
Make a difference in the life of a student by becoming a mentor through the B-Hive.
Networking Nights
Connect with the MBA team, students, and fellow employers in a relaxed setting.
Internships & Special Projects
Hire our students for internships or hire a group of them to complete a special project.
Global Mindsets, Inclusive Leaders
At Clemson MBA we value a diverse mindset, and our students are exposed to a broad range of elective course topics, study abroad experiences, professional development events, community service initiatives, and advanced certifications so they not only graduate with a high level of business acumen but also understand the importance of corporate social responsibility.
What Recruiters Are Saying About Our Students:
"ScanSource values our relationship with Clemson MBA and continues to find many talented employees to support our business, specifically through the program's Employer Spotlights and on-campus interview opportunities. The students always present themselves professionally and are trained to succeed in various business disciplines." - Madison Skinner, ScanSource
"As a working professional student, I was able to instantly apply what I was learning in the Clemson MBA Program to my job in supply chain. More importantly, by increasing my knowledge of business infrastructure, I've been more successful at working cross-functionally and creating new career possibilities." - Richard Kornacki, Michelin
Our students are highly motivated and immersed in our innovative business programs, where classes are taught by distinguished Clemson professors, successful entrepreneurs and business leaders who task students with putting their classroom knowledge to work solving real-life business problems and have an impact on their businesses and the economic environment of the Upstate and beyond.
Connect
Our Career Services Team will help you match your organization's employment needs with qualified Clemson MBA candidates and design a recruiting strategy that works for you. We are grateful for our corporate partnerships and look forward to helping you find exceptional talent!
Meet Our Team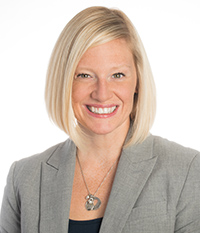 Jamie Patterson
Director of Career Services
& Student Experience
864-656-8183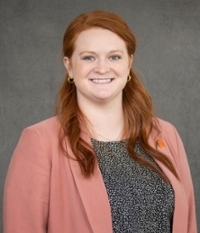 Callie Phillips
Assistant Director of Career
Services & Student Experience
864-365-0602
---
Additional Resources
Clemson MBA Program
Clemson MBA Program | 1 North Main Street, Greenville, S.C. 29601