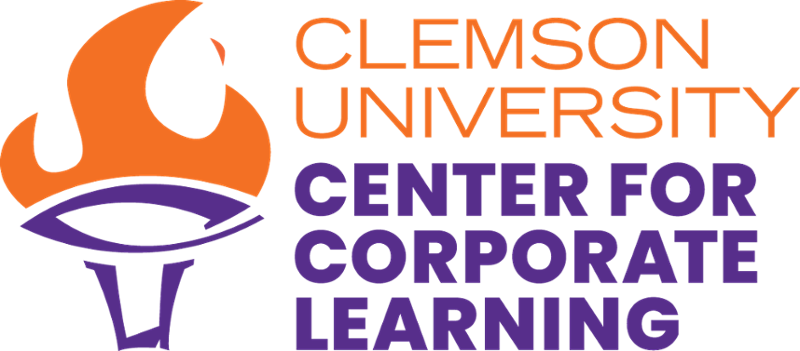 Maintenance Management Certification
Earn The Respect Of Your Employer And Colleagues With A Maintenance Management Certification. Register Now For Clemson University Maintenance Management Certification Classes
Maintenance managers who build their skill set through training offer a competitive edge to an organization. Shrewd maintenance managers know how to anticipate and avoid costly problems, making operations more efficient, productive, and profitable.
Clemson University Center for Corporate Learning, working with Life Cycle Institute, is offering maintenance management professionals the opportunity to achieve their Maintenance Management Certification through one of the country's most respected engineering schools.
Your Organization Will Applaud Your New Skills
Gain immediate dividends because you can instantly apply to your job the practical skills you will learn. You'll also demonstrate your commitment to building a solid maintenance program. This means you'll become more valuable to your organization.
You will discover how to:
Build and sustain a maintenance program.
Establish appropriate maintenance KPIs and visual management dashboard.
Select the optimum equipment maintenance strategy.
Meet your production goals and maintain your valuable assets.
Select the optimum equipment maintenance strategy.
Implement work management strategies that improve asset availability and utilization.
Increase maintenance personnel productivity.
Build a problem-solving culture.
Manage an effective maintenance budget.
To earn a Maintenance Management Certification, candidates must complete four courses (at least two of them in Greenville, the rest in Charleston) and successfully pass the Maintenance Management Certification exam within three years.
Program Details
Per Course: $1895
MMC Exam: $295
Total investment: $7875
CEUs: 8.4
Register Online
Download Brochure
Required Courses
Maintenance Management Skills

Maintenance Management Skills teaches supervisors how to lead a world-class maintenance department using planning and scheduling best practices to drive work execution, and motivational and time-management techniques to improve maintenance worker productivity. The result is improved staff motivation, lower employee turnover, increased output and reduced waste of resources.

Participants will build an action plan for managing their human capital while developing an effective program for managing assets. Supervisors will learn how to leverage their personal supervisory style, apply time management techniques, run effective meetings and improve maintenance delivery. Explore how to make the transition from a technician to a supervisor and investigate common supervisory staffing issues like supervising friends, orienting new employees and delegating responsibility when necessary.

The course uses case studies, group discussion, reflection activities and exercises to help you apply what you learn to your work situation.

In This Training, Learn How To:

List the roles, goals and motivation of a Maintenance Supervisor
Describe maintenance management critical success factors:
a) Using planning and scheduling to drive work execution
b) Techniques to improve worker productivity
c) Managing meetings effectively
Practice techniques to effectively manage people:
a) Methods to handle problems with employees, vendors, coworkers
b) Decision making
c) Smart delegation
d) Supervisory staffing issues: orientation, discipline, supervising friends, and substance abuse issues
Build a management skills action plan:
a) Assess your supervisory style to identify strengths and areas for development
b) Apply time management techniques
c) List ways to control reactions and make good decisions in times of stress
d) Outline ways to make the change from technician to supervisor
Outline an effective program to manage your assets
a) Best practices for applying preventive maintenance, predictive and condition-based technologies
b) Guidelines for assessing your existing PM system and making improvements

Who Should Attend Training

This course is designed for maintenance managers and supervisors. Ideal candidates either supervise maintenance workers or manage maintenance through supervisors. This course is also recommended for people looking to improve their skills, or those being considered for advancement. Supervision from other related areas such as Operations, Warehouse and Housekeeping are also invited.

Additional Information

Each course includes a comprehensive active learning manual, morning and afternoon refreshments, lunch, and the use of a fully equipped e-business center. Class hours are 8:30 am to 4:30 pm Tuesday through Thursday. All students completing a class at the Life Cycle Institute will receive a certificate of completion awarding 2.1 CEUs.

Managing Planning and Scheduling

In Managing Planning and Scheduling, participants build a work management program based on Reliability Excellence best practices. The course is designed for a Lead Planner or Department Manager to establish a proactive work management program or to transform an existing program into an effective, results-producing department that positively impacts maintenance costs, plant reliability measures and employee morale.

Managing Planning and Scheduling examines topics like designing a work management program strategy, developing standard processes and work, establishing program measures, managing staff development, and planning program improvement. Learners will walk away with a solid foundation for an effective maintenance work management program.

Learn How To:

Explain the business case for proactive work management
Build a work management process flow chart and responsibility matrix
Draft a work management program strategy: objectives, key performance measures, targets, reporting and monitoring methods
Develop governing principles and standard procedures for CMMS data entry and use
Outline a management of change process for job plans
Describe a disciplined approach to managing work for a planned shutdown

Scoping and validating work, project management, communication, reviews, lessons learned

Develop an implementation plan to establish or transform a planning program, including:

Establishing program standards and templates
Incorporating visual management into your program
Job performance feedback and continuous improvement
Backlog management
Managing the people side of change (change management)

Develop an audit and continuous improvement strategy for the planning program

How trends in manufacturing and technology impact planning/scheduling
How the planner interacts with failure data and root cause analysis efforts
How equipment criticality and risk management influence maintenance strategy

Build performance management and development strategies for planning personnel

Who Should Attend

People in the following roles should participate in this training:

Lead and senior planners
Planning Department Managers
Maintenance Managers
Reliability Change Agents
Reliability Managers
Continuous Improvement Managers

Additional Information

Each course includes a comprehensive active learning manual, morning and afternoon refreshments, lunch, and the use of a fully equipped e-business center. All students completing a class at the Life Cycle Institute will receive a certificate of completion awarding CEUs. Class hours are 8:30 am to 4:30 pm Tuesday through Thursday.
Elective Courses (Pick Two)
Registration
Course Schedule
Live Virtual Classes
Virtual, Instructor-Led Training (VILT) combines the benefits of traditional classroom training and online learning. It allows participants to have the experience of live instructor-led training without having to go to a classroom or have the instructor present in person.
Using Zoom's technology, this video-based training allows learners to ask questions, participate in discussions, and get trained together irrespective of their location. Participants in the Institute's virtual classes will learn the same content from the Institute's in-person classes while participating in professionally facilitated sessions with activities that stimulate participation and learning:
Online breakout sessions with facilitator support
Individual and group assignments and discussions
Polls, Q&A, and online whiteboard activities that keep learners engaged
Life Cycle Institute's virtual classes were developed by industry-leading subject matter experts and certified professional instructional designers with experience converting live, instructor-led classes into engaging and effective online learning experiences using learning best practices.
The virtual classes will entitle participants to the same CEUs as in-person classes and will also count toward certification.
Clemson Center for Corporate Learning
Clemson Center for Corporate Learning | 1 North Main Street, 7th Floor, Greenville, SC 29601