Prior to the expiration date shown on CEPSCI identification cards, Certified Erosion Prevention and Sediment Control Inspectors are required by SC DHEC to complete DHEC approved professional development training in order to be recertified.
Please recognize that any person who conducts an inspection without current certification, as well as any site inspected, is in violation of state requirements and may be subject to enforcement actions.
CEPSCI Online: Recertification Process
Series of professional development training modules
Testing required to continue or complete modules
Issuance of certification (mailing of letter and card)
SC DHEC notification
CEPSCI Recertification Schedule
Online classes will become available on the first date of each section. Registrants must successfully complete all modules and associated tests by 5:00 PM of the last date of that section.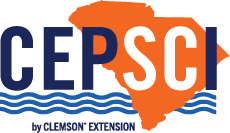 Resuming May 2024
Visit our  Policies Webpage for
registration, pricing and cancellation policies
Contact us for further information.