Registration for our spring 2024 course offerings will open in February or March. If you would like to be notified of future course offerings, please sign up for our Hybrid Course newsletter.
The purpose of the Post-Construction BMP Inspector program is to train professionals in methods and strategies for conducting routine and thorough inspections of stormwater management practices. Visit the Certified BMP Inspectors page for a list of certified BMP inspectors.
This program is offered as a five-week online course, followed by an in-person field day and an online certification exam.
Municipalities and counties in South Carolina recognize the necessity of inspection and maintenance of stormwater infrastructure. When a neighborhood or property management company cannot carry these tasks out, communities are faced with the challenge of enforcement actions or utilization of limited staff and financial resources to accomplish the task.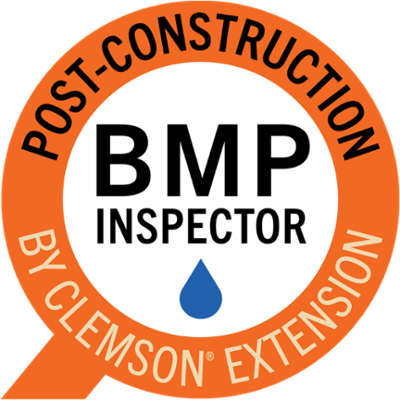 Spring 2024 Course Dates TBD
Program Coordinator
Steven O'Shields
Water Resources Agent
Clemson Extension
864-359-3385
Course Instructors
Steven O'Shields
Cal Sawyer, Ph.D.
J.P. Johns, P.E.
Chuck Jarman, P.E.
Kim Counts Morganello
Debabrata Sahoo, Ph.D., P.E., P.H.
Cooperative Extension Water Resources
Cooperative Extension Water Resources |