Mission
To promote local stakeholders' involvement in protecting and improving the natural and economic resources of their watershed. We all live in a watershed!
Vision
To involve Clemson University faculty and students in statewide watershed research and education programs that support the development and implementation of community-based, cost-effective watershed management programs.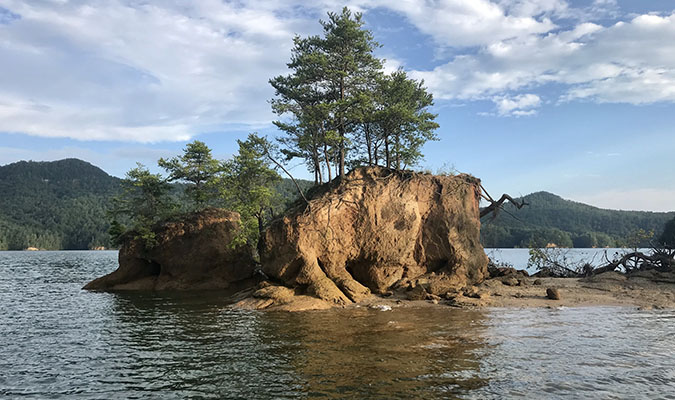 Director,
Clemson University Center for Watershed Excellence
Katie Callahan has served as the Director of the Clemson University Center for Watershed Excellence since 2013and is an Extension Associate at Clemson University Public Service & Agriculture. Katie also serves as adjunct faculty at Clemson University's Forestry and Environmental Conservation Department and previously at the College of Charleston. Prior to directing the Center, Katie has led numerous programs at Clemson University and its Extension Service since 2008, including directing Clemson Extension's Carolina Clear stormwater outreach and engagement program and serving as Team Leader for the Water Resources Program at Clemson Extension. Her passion is engaging diverse stakeholder groups for a more inclusive, sustainable conversation about water management.
Katie's expertise is in the area of stakeholder engagement, environmental messaging, watershed plan development, water quality monitoring, and citizen science program development. Katie was recently certified as an Effective Facilitator recognizing the need to create more inclusive, effective, and actionable conversations about water resource management and climate change impacts. Katie has served the Board of Friends of the Reedy River, most recently for three years as Chair, and is now serving on the Board for Palmetto Pride, our statewide agency dedicated to litter prevention.
Katie has a B.S. in Marine Sciences –Chemical and Physical Oceanography from Stockton University and an M.S. in Environmental Science –Pollutant Fate and Transport from Rutgers University.
---
Watershed Scientist,
Clemson University Center for Watershed Excellence
Emily is the Watershed Project Scientist for the Center for Watershed Excellence. Prior to joining the center in 2021, she worked with a local nonprofit organization focusing on watershed planning, conservation, and water quality monitoring. Emily is passionate about studying and addressing impacts to natural ecosystems, and working to engage communities in watershed protection through inclusive and accessible citizen science initiatives.
In her position with the Center, Emily serves as a primary coordinator for the SC Adopt-a-Stream program. She provides support for volunteers and trainers, helps manage day-to-day operations and SC Adopt-a-Stream Database inquiries, and contributes to program growth and development.
Emily has a B.S. in Geosciences from Middle Tennessee State University and an M.S. in Geology from Northern Arizona University.
The Center for Watershed Excellence
The Center for Watershed Excellence | 509 Westinghouse Rd, Pendleton, SC 29670