Senior Vice President for Research, Scholarship and Creative Endeavors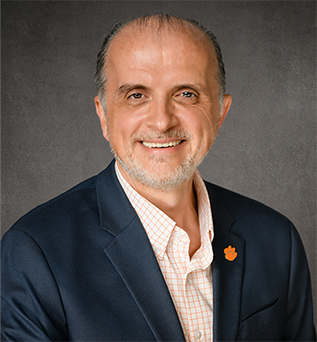 Dr. Tanju Karanfil
Professor, EEES
Senior Vice President for Research, Scholarship and Creative Endeavors
Clemson University
230 Kappa Street
864.656.7701
E-mail: tkaranf@clemson.edu
Ph.D. Environmental Engineering, University of Michigan, 1995
M.S. Environmental Engineering, University of Michigan, 1991
B.S. Environmental Engineering, Istanbul Technical University, 1988
Professional Registration
International Water Association Fellow
Professional Engineer, South Carolina, 2003, No. 23143
Overview
Dr. Karanfil was appointed vice president for research at Clemson University in February 2016 to steer the university's research strategy, working closely with faculty and staff at Clemson and with collaborators in industry and the community. He was named senior vice president for research, scholarship and creative endeavors in 2023.
Clemson joined the list of the nation's top research universities as a Carnegie R1 university in 2016, a reflection of its growth in research expenditures across disciplines and increases to the number of doctorate degrees awarded and postdoctoral and non-faculty researchers on staff. Clemson's performance across all of Carnegie's metrics have improved under Dr. Karanfil's leadership since receiving the R1 designation, and Clemson's R1 classification was reconfirmed in 2018 and again in 2021. Total research and development expenditures are at their highest levels of at least the past decade at $263 million in 2022.
As vice president for research, Dr. Karanfil has spearheaded numerous initiatives to nurture research activity and collaboration, foster the professional development of faculty, expand partnership with industry and other external organizations, and secure high-value interdisciplinary research projects. Since 2015, Clemson has earned nearly 100 research awards valued at or above $2 million, for a total of more than $550 million. Dr. Karanfil established the CAREER Academy to support grantsmanship and professional development of junior faculty as well as the Office of Research Development to support proposal development and coordinate interdisciplinary research. He led a University consortium with Battelle to secure a 10-year management contract ($3.5B) for Savannah River National Laboratory. He oversees numerous core facilities that have expanded under his leadership. He led the reorganization and refocus of the University's tech-transfer arm, the Clemson University Research Foundation, to increase opportunities for industry research collaboration. Dr. Karanfil also established programs to celebrate faculty accomplishments, including Researcher of the Year and the University Research, Scholarship and Artistic Achievement Awards, to nurture a positive research culture.
In addition to serving as Senior Vice President for Research, Scholarship and Creative Endeavors, Dr. Karanfil serves and represents Clemson University on several boards and committees (Battelle Savannah River Alliance, SC Smart-State Endowed Chair, SC EPSCoR, Clemson University Research Foundation, South Carolina Research Authority, South Carolina Universities Research and Education Foundation, Southeastern Universities Research Association, and Oak Ridge Associated Universities).
Before becoming Vice President for Research, Dr. Karanfil served as chair of the environmental engineering and earth sciences department and later as associate dean for research and graduate studies in the College of Engineering, Computing and Applied Sciences. He currently maintains an active research portfolio as well, focusing on water quality and improvements to water, wastewater and hazardous waste treatment systems.
Research
Dr. Karanfil's primary teaching and research interests are in the fundamentals and applications of physicochemical processes in water, wastewater and hazardous waste treatment systems. His research group is particularly interested in applying fundamentals of chemistry and engineering to address environmental challenges faced in practical applications, including both engineered and natural systems.
Dr. Karanfil has made significant scientific contributions (detailed below) in the areas of (i.) environmental treatment technologies; (ii.) disinfection by-product formation; (iii.) adsorption processes; and (iv.) wildfire impacts in water treatment.
Development of novel environmental treatment technologies:

 

Dr. Karanfil and his research group have also explored the use of nanobubbles in both natural and engineered systems. Further, he has investigated regeneration activated carbons and biosolids saturated with per- and polyfluoroalkyl substances (PFAS) using microwave and thermal regeneration techniques. He has conducted fundamental mechanistic studies of these processes as well as examined factors controlling their practical applications.
Disinfection by-product (DBP) formation:

 

Dr. Karanfil's research has focused mainly on the formation and control of both regulated and emerging DBPs that are known to form in water but are not yet regulated. His research on trihalomethanes, haloacetic acids, halonitromethanes, haloacetonitriles, iodotrihalomethanes and nitrosamines revealed the factors (e.g., precursors, water chemistry, oxidant types, operational conditions) controlling their formation in drinking water, desalinated waters, wastewater effluents, as well as swimming pools. While studying the emerging DBPs, he has used a holistic approach to include the regulated DBPs and toxicological assessment to develop practical solutions for water utilities. The publications from the DBP research have also been highly cited in the literature, indicating their impact.
Adsorption Processes:

 

Dr. Karanfil and his students have elucidated and advanced our understanding of the removal mechanisms of synthetic organic contaminants (SOCs) as well as natural organic matter by carbonaceous adsorbents (activated carbons, carbon fibers, carbon nanotubes, graphenes, ion exchange resins, microplastics). Dr. Karanfil has tailored sorbents for selective removal of target compounds from water and wastewaters. He has developed quantitative structure relationships for modeling of SOC adsorption by carbon nanotubes, which opened a new area of research in literature. His publications from the adsorption work have been highly cited, indicating utilization by the scientific community. His work has guided in the selection of sorbents and in designing and operating effective adsorbers and ion-exchange systems for water and wastewater treatment. He has developed and produced carbonaceous adsorbents, includinh their scale up for commercial production, from agricultural waste products for their valorization and reuse. His recent work has also examined the adsorptive interactions of microplastics in environment. Furthermore, his adsorption research documented the potentially negative environmental impacts of the release of carbon nanotubes in natural systems.
Wildfires impact on water quality:

 

In recent years, Dr. Karanfil and his collaborators have also investigated the impacts of wildfires on water quality and treatability. He investigated the impacts of wildfires around the U.S. Furthermore, he and his research group have studied the impact of fire-control techniques (e.g., prescribed fires, mechanical testing) to control wildfires, which have been systematically investigated for the first time, and showed that some of these techniques can be viable for certain regions to minimize the negative impacts and risks of wildfires.
Visit Dr. Karanfil's faculty profile page for classes, publications and honors.
Division of Research
Division of Research | 230 Kappa Street, Clemson, SC 29634