Commit to Clemson.
You've been admitted and decided to join the Clemson Family. Congrats! To reserve your space for the first semester, there are just a few things you need to do. Complete the next three steps as soon as you're confident that you're going to commit to Clemson, and then read through the following steps you'll need to take before the first day of class.
Activate your Clemson username

To activate your Clemson University username:

You will need your Clemson University ID (for example, C12345678) and username activation code that were sent to you in your acceptance letter.

If you need this code resent to you by email, please contact the Office of Undergraduate Admissions or ithelp@clemson.edu.

Go to myusername.clemson.edu and complete the onboarding process. Next, you will need to enroll a device in Duo Security for two-factor authentication (2FA).

2FA is required to access secure systems like iRoar.

Use the provided step-by-step instructions for Duo Security to enroll.

Once you know your Clemson University username and password, please completely close your browser and open a new session.

Set up your Clemson email
Pay your deposit

All incoming freshmen and transfer students must pay a nonrefundable $200 deposit online at iroar.clemson.edu. The deposit will be applied toward the tuition and fees for the semester in which you begin your studies at Clemson. One exception is for students who enroll in Summer classes. If you enroll for the Summer semester, the deposit will be applied toward the tuition and fees for the Fall semester.

It is important to note that Duo Security 2FA registration is required to access iRoar and any future secure interactions.

If you have a question about the entry date listed on your application, please contact the Office of Undergraduate Admissions before submitting the deposit.
Prepare for your first semester.
Now that you've committed to Clemson, it's time to get ready for your first semester on campus. Review the following steps carefully and complete the actions that pertain to your specific academic situation.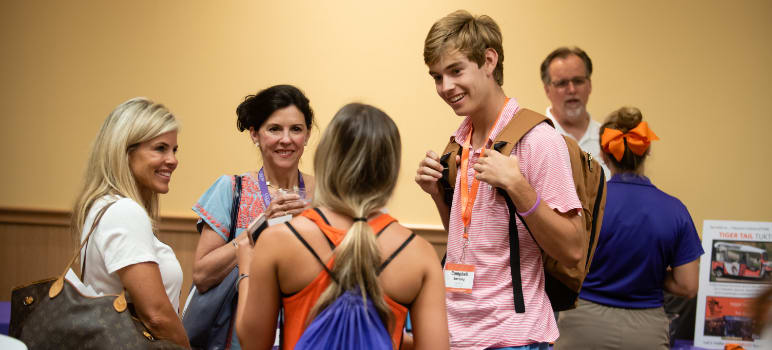 Picture yourself here.
Now that you've completed documentation to mark where your academic journey begins, take the steps to determine what your daily life on campus will look like. From choosing your residence hall to researching student clubs and organizations, it's time to complete the final steps leading up to your first day as a Clemson student.
Start the semester strong.
This is where your Clemson journey officially begins. Attend the first on-campus activities scheduled for you and your peers. Make new friends, meet President Clements and create a routine that enables you to thrive during your first semester.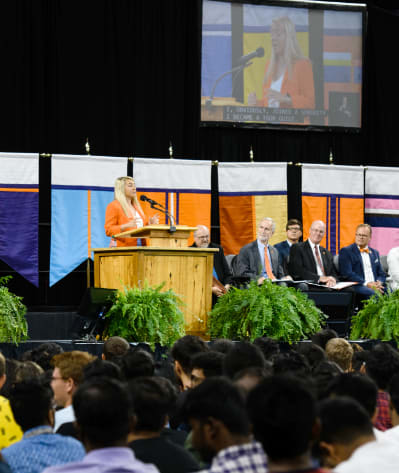 Attend University Convocation and Kick-Off Clemson activities.
Convocation and other activities are held during your first week on campus to introduce you to college life and help you make a successful transition to Clemson. All new students are assigned a welcome group leader. Visit the University Convocation and Clemson Kick-Off activities page to view the schedules.