Park, Stay and Play in Clemson
TRAVELING TO CLEMSON
Travel by Car
Take I-85 to exit 19B. Exit toward Clemson University. Follow Highway 76/28 west for approximately 12 miles. Exit off Highway 76/28 onto Highway 93 south toward Clemson University. Weekday and weekend visitor parking availability differs, so be sure to plan accordingly when traveling to campus by car. Find your bearings with the Clemson Campus Map.
Travel by Air
Greenville-Spartanburg Airport (GSP) is the nearest international airport. Driving from GSP to Clemson takes approximately one hour.
Other regional airports include Charlotte Douglas International Airport (CLT) in Charlotte and Hartsfield-Jackson Atlanta International Airport (ATL) in Atlanta. Both Charlotte and Atlanta are about two and a half hours from Clemson by car.
Parking at Clemson
Visitors may park in metered spaces in designated areas across campus. We encourage visitors to pay the meter for at least two hours to accommodate the length of the campus tour.
Details for visitor parking can be found on the Campus Parking Map.
View Campus Parking Map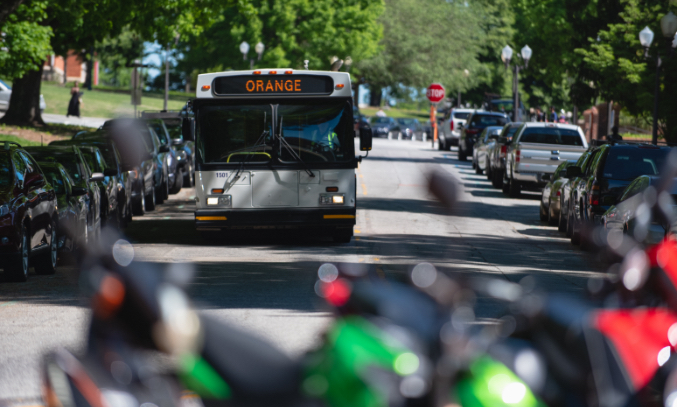 CLEMSON AREA ACCOMMODATIONS
The James F. Martin Inn
The 89-room James F. Martin Inn sits on the edge of Clemson's campus with beautiful views of Lake Hartwell and the Walker Golf Course.
If you visit, please utilize metered visitor parking on campus.
Metered parking options can be found at Parking and Transportation Services.
The James F. Martin Inn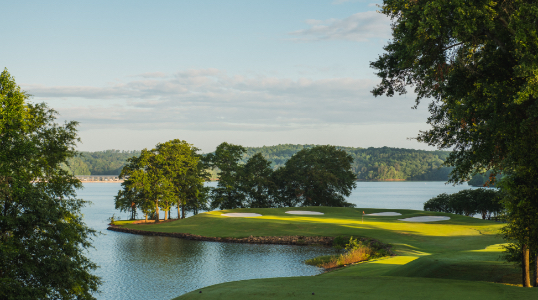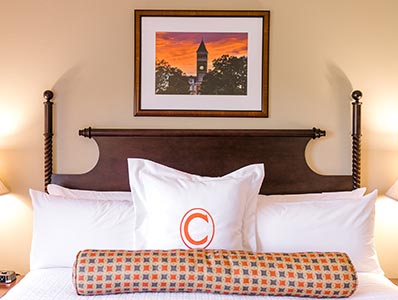 Clemson University Outdoor Lab
Surrounded by the Clemson Experimental Forest with a lakefront view, the Clemson University Outdoor Lab offers a relaxing and inviting atmosphere. Choose from suite or cabin-style lodging and enjoy a peaceful retreat during your stay.
Explore the Outdoor Lab

Contact the Visitors Center
Visitors Center staff are happy to answer any questions related to tours, visitor parking and accommodations. The Visitors Center can be contacted by phone at 864-656-4789 or by email at visit@admission.clemson.edu.