McCormick Fellowship
About the McCormick Fellowship
The McCormick fellowship can provide supplemental support and be awarded to students who have completed their first year of graduate studies. The McCormick Fellowship will be awarded to those students who have an interest in Price Theory, Corporate Finance, Environmental Economics, or the Economics of Sports.
Current McCormick Fellowships: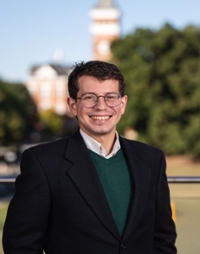 Hugo Vaca Pereira Rocha
Hugo Vaca Pereira was born in Santa Cruz de la Sierra, Bolivia in 1993. Having grown up in Latin America after times of radical socioeconomic transformations, his interest in economics sparked at an early age. Throughout his teenage years, he was intrigued by his family's reminiscences of the hyperinflationary episodes of Bolivia and Brazil during the 1980s and 1990s. Also, he was attracted by his family's ascent to the middle class during the "Brazilian Economic Miracle" in the 1960s and '70s.
His interest in understanding the driving mechanisms behind all these processes further developed when he opted to take a bachelor's degree in Economics at the University of Arkansas-Fayetteville and a master's degree in Financial Economics at Bowling Green State University. His current research interest is centered around understanding the drivers and consequences of labor productivity convergence within manufacturing across countries. In addition, he is interested in understanding the effects of financial liberalization in productivity and the interaction between exchange rate regimes and price rigidity.
About Bobby McCormick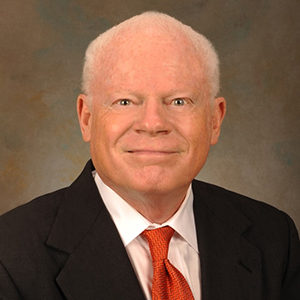 Bobby McCormick was born and grew up, begrudgingly and somewhat, a Southerner, but it was a long time ago. He graduated from Clemson University, combined with a two-year interruption for military service as 1LT in the U.S. Army (which served him well). With a great deal of luck, he earned a Ph.D. in Economics from Texas A&M University in 1978. He has managed to finagle appointments at the University of Rochester, Virginia Tech, Universidad Francisco Marroquin (Guatemala), CIMBA (Asolo Italy), and, of course, Clemson University. Amazingly, he was named BB&T Scholar and Director of the BB&T Center for Economic Education at Clemson. In 2002, he was recognized as Senior Fellow at Property Environment Economy Research Center in Bozeman, MT, a position he has managed to hold on to until this day, but who knows what tomorrow holds as they may yet come to their senses. In a mild vote-counting fraud, not dissimilar to the 2000 Presidential Election mess, McCormick won several Clemson University teaching awards, The Prince Innovative Teacher of the Year (1998), the Alumni Professor of the Year (2000), the MBA Professor of the Year (several occasions), and the National Scholars Mentor Award (2004 and 2006). He has served inauspiciously as a consultant to a number of U.S. and foreign governmental agencies, the U.S. Congress, and several state legislatures. He refused to be held accountable for the actions of any of these bodies. McCormick served as an associate editor of the Journal of Corporate Finance and, previously, the Southern Economic Journal. He enjoyed consulting in corporate financial affairs, litigation matters, golf economics, entrepreneurship, organizational structure and architecture, business planning and development and financial valuation. From 2014 through 2018, he served as the Dean of the College of Business. He provided invaluable support in the design and development of the Wilbur O. and Ann Powers College of Business which is situated across from Bowman Field and Sikes Hall. He did a fair amount of environmental consulting, particularly in the arena of ecosystem services valuation. His scholarly research covered a rather broad spectrum in the area of microeconomics including the areas of antitrust, public choice, regulation, sports and economics, managerial and financial economics, environmental economics and general microeconomic theory. Other stuff he has written that hardly anyone reads covers managerial economics, energy and gambling markets and the regulatory environment. He loved the smell of wood chips and sawdust, the whir of his bicycle pedals, hunting, kayaking, all things Montana and the sublime perfectness of Edisto Beach. He was known to attend a Clemson Football game on occasion. An old family farm in south Georgia restored his soul and reminded him of wonderful, youthful days gone by when he learned to pulpwood, sawmill, cut calves, hay and drive a tractor.
Robert E. (Bobby) McCormick passed away surrounded by his family in his Clemson, S.C. home on Sept. 3, 2023. McCormick is survived by his wife, Valerie Jean DeVries, and sons, Exley McCormick and Jesse McCormick. 
John E. Walker Department of Economics
John E. Walker Department of Economics | 320 Wilbur O. and Ann Powers Hall, Clemson, S.C. 29634