Joe Burgett, Ph.D.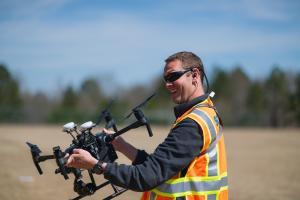 Associate Professor
Contact
Nieri Department of Construction, Development and Planning
Office: 2-134 Lee Hall
Phone: 864-656-6739
Email: jmburg@clemson.edu

Education
Ph.D. in Design, Construction Science and Planning, University of Florida (2013)
Certification/Licenses
FAA Part 107 Remote Pilot Certificate; Licensed General Contractor; US Green Building Council LEED AP; American Institute of Constructors Certified Professional Constructor
Experience
Joe "Dr. Drone" Burgett is a tenured faculty member in the Nieri Family Department of Construction Science and Management at Clemson University.  He has been in university-level academics since 2010 and teaches both undergraduate and graduate-level courses. By trade, Dr. Burgett is a General Contractor and has spent many years teaching online courses for the trade unions.  His primary area of research is in applied drone technology and has worked extensively with the SCDOT.  His research area focuses heavily on using UAS technology for bridge inspections and creating 3-D models to support field operations.  He has published multiple peer-reviewed articles on UAS technology, including titles such as "Accuracy of Drone Image Based Volumetric Surveys," "Evaluating the Use of Unmanned Aerial Systems (UAS) to Perform Low-Slope Roof Inspections," and "SCiDUC: Solution to Address Common Challenges of State Agency Drone Deployment." Dr. Burgett was named Clemson University's 2018 Master Teacher, the University's highest teaching honor.  He currently serves as the President and Director of the South Carolina Interagency Drone Users Consortium (SCiDUC).  SCiDUC is the state's only 501c3 nonprofit drone association exclusive to South Carolina government agencies.  Dr. Burgett is also an accomplished speaker.  He is a familiar presenter at Associated Schools of Construction and American Institute of Constructors conferences.  He has also spoken at the International Symposium on Automation and Robotics in Construction and the International Conference on Construction Applications of Virtual Reality.
Teaching Focus
Teach several applied drone technology courses to undergraduate students, graduate students and industry professionals.  He also teaches undergraduate environmental systems I and II (HVAC, Plumbing, Fire Protection and Electrical) and a graduate-level green construction course.
Professional Development Courses
Dr. Burgett teaches several online professional development courses on drone technology through Clemson Online. Industry professionals can earn their Part 107 FAA license, APSA flight proficiency certificate and become a level 1 UAS thermographer. Click here for more information.
Research Focus
Construction technology with a focus in unmanned aerial systems (drones), photogrammetry and modeling.
Service Focus
President and Director of the South Carolina Interagency Drone Users Consortium (SCiDUC), faculty advisor for the Associated General Contractors of America student chapter and a member of the American Institute of Constructors.
College of Architecture, Arts and Humanities
College of Architecture, Arts and Humanities | 108 Strode Tower, Clemson, SC 29634