Rosa Pillcurima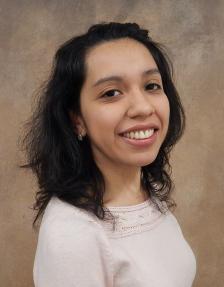 Lecturer of Spanish; Placement and Exit Exam Coordinator; Sigma Delta Pi- Iota Phi Clemson Chapter Advisor
Contact
Office: 316 Daniel
Website: https://www.sigmadeltapi.org
Email: rpillcu@clemson.edu

Education
M.A., University of Florida (2018)
Ms. Pillcurima is a Spanish Lecturer at Clemson University, where she coordinates and teaches the Beginning I Spanish. Currently, she also teaches Beginning Spanish II and Intermediate Spanish II language courses.

For the Languages Department, Ms. Pillcurima serves as the Sigma Delta Phi Faculty Adviser for the Iota Phi Clemson Chapter. She also coordinates the Modern Language Placement Test and the Exit Exam.

Ms. Pillcurima holds an M.A in Spanish and a Certificate in Latin American Studies from the University of Florida.
College of Architecture, Arts and Humanities
College of Architecture, Arts and Humanities | 108 Strode Tower, Clemson, SC 29634