Kathryn Langenfeld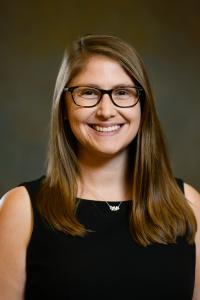 Assistant Professor
Contact
Office: Hardin 008
Email: klangen@clemson.edu

Education
Ph.D., Classical Studies, Duke University (2017)
Courses
Ancient Rome, Ancient Mediterranean
Dr. Langenfeld specializes in the history of Ancient Rome and the Ancient Mediterranean. Her research uses history, archaeology, and literature to examine the political instability of the Late Roman Empire. Her current article and book-length projects investigate issues of political disillusionment, forgery, censorship, and espionage within the Roman imperial courts of the third and fourth centuries CE.
Dr. Langenfeld also has a background in archaeological excavations, field research, and study abroad programs. She currently serves as the Assistant Director of the Mediterranean Connectivity Initiative, which uses Gephi and GIS mapping to trace the social networks that bound the ancient Mediterranean together. This collaborative project has received funding from the Ancient Catacombs Society and the Onassis Foundation, and her own research has been funded by the Andrew W. Mellon Foundation and Rice University's Humanities Research Center.

Dr. Langenfeld offers a wide range of courses in Greek and Roman Civilization and Medieval and Early Modern History, including HIST 3550: The Roman World, HIST 3540: The Greek World, and HIST 1720: The West and the World, Part 1. Her classes highlight the modern relevance of ancient and medieval history and provide students with skills to analyze ancient texts and material culture as part of broader political, literary, and cultural contexts.
College of Architecture, Arts and Humanities
College of Architecture, Arts and Humanities | 108 Strode Tower, Clemson, SC 29634