Hala Nassar, Ph.D., Fellow CELA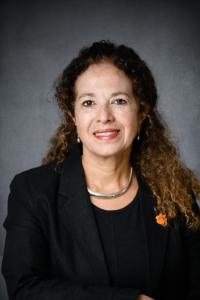 Director of Landscape Architecture and Graduate Programs; Professor
Contact
School of Architecture
Office: Lee 3-104
Phone: (864) 656-2499
Email: hnassar@clemson.edu

Education
Ph.D., Ain Shams University; M.AG., Pennsylvania State University; M.S., Ain Shams University; B.S., Ain Shams University
Dr. Hala F. Nassar, Professor of Landscape Architecture at Clemson University, holds a BArch, MArch, and Ph.D. in History of Landscape Architecture from Ain Shams University in Cairo, Egypt, and Masters in Landscape Design from the Pennsylvania State University. Dr. Nassar is an Academy Fellow, Council of Educators in Landscape Architecture. Dr. Nassar is a principal at HewittNassar Studio (http://www.hewittnassar.com) practicing in the United States and globally on projects focusing on sustainable design and planning, urban design, cultural landscape preservation, public art and place making, health care design and ecological restoration. Amongst more than 30 national and international awards for professional practice, research, teaching and service, her most recent award was a Third Prize Place in the international design competition for the 10th International Garden Exposition for Creative Garden Design in China. She is the recipient of multiple other awards from the American Society for Landscape Architects (ASLA) for her design and planning work in the USA and internationally including a Public Art installation project in Sonoma, California titled "Climate Change Garden".
Her scholarship concentrates primarily on cultural and historical landscape, collaboration between artists and landscape architects, influence of global stimuli on local and regional landscape transformation, globalization, and internalization and multiculturism in Landscape Architecture higher education. She has more than 50 peer-reviewed articles published and under review in top-ranked journals in Landscape Architecture both nationally and internationally including
Landscape Journal, Landscape Review, Landscape Research Record, Urban Design International, Critiques of Built Works of Landscape Architecture, and Art, Design & Communication in Higher Education. Additionally, she is a regular contributor to professional publications including Landscape Architecture Magazine; the journal of the American Society of Landscape Architects. Professor Nassar's international education efforts culminated in the inauguration of World Design Studio (WDS) in 2019; a global multi-university interdisciplinary design consortium. The WDS fosters multidisciplinary, international, and collaborative funded research, consultation, community engagement, and cross-cultural enrichment of curriculum, pedagogy, and learning outcomes. Dr. Nassar holds multiple nationally elected positions including Second Vice President of the Council of Educators in Landscape Architecture (CELA), and elected position to the board of ASLA on Education. Nassar holds an Honorary Professor at Hauzhong Agricultural University in China.




College of Architecture, Arts and Humanities
College of Architecture, Arts and Humanities | 108 Strode Tower, Clemson, SC 29634