Eric Touya, Ph.D.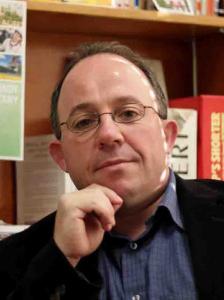 Professor of French; Chevalier des Palmes Académiques
Contact
Department of Languages
Office: 505 Strode
Email: etouya@clemson.edu

Education
Ph.D., University of Chicago
Eric Touya de Marenne is Professor of French. He received his D.E.A. in Comparative Literature at the Université de Paris IV, Sorbonne, and his Ph.D. in Romance Languages and Literatures at the University of Chicago. He is currently academic advisor for the LAIB program and the study abroad program in London & Paris-Normandy: Remembering D-Day. He received the John B. & Thelma A. Gentry Award for Teaching Excellence in the Humanities, the Dean's Award for Outstanding Achievement in Service, and a National Endowment for the Humanities award for his work on Alexis de Tocqueville. His research and teaching interests include 19th-21st Century French and Francophone literature and culture, and interdisciplinary approaches to literature, art, feminism, culture, theory, ethics, and social studies.
Selected Professional Works
Books (Published)
Simone de Beauvoir: le combat au féminin. Collection Que Sais-Je ? Paris: Presses Universitaires de France/Humensis, 2019. https://www.puf.com/content/Simone_de_Beauvoir
The Case for the Humanities: Pedagogy, Polity, Interdisciplinarity. Lanham: Rowman & Littlefield, 2016. https://www.amazon.com/Case-Humanities-Pedagogy-Polity-Interdisciplinarity-ebook/dp/B01N9TEEZR
Francophone Women Writers: Feminisms, Postcolonialisms, Cross-Cultures. Preface by Maryse Condé. Lanham: Lexington Books Publishing, 2011. https://www.amazon.com/Francophone-Women-Writers-Postcolonialisms-Cross-Cultures/dp/0739140310
French-American Relations: Remembering D-Day after September 11. Lanham: University Press of America, 2008. https://www.amazon.com/French-American-Relations-Remembering-D-Day-September/dp/0761839682
Musique et Poétique à l'Âge du symbolisme: Baudelaire, Mallarmé, Claudel, Valéry. Paris: Editions L'Harmattan, 2005. https://www.amazon.com/Musique-po%C3%A9tique-l%C3%A2ge-symbolisme-Variations/dp/2747593231
Journal Articles & Book Chapters (Published)
Souvenir d'horizons, qu'est-ce, ô toi, que la Terre?': Écopoétique chez Bonnefoy et Mallarmé: lieu, sens, présence." Parler la Terre/Speaking the Earth. Contemporary French & Francophone Studies: Sites, 2021.
Voix politiques, transcendantes, et transgressives dans l'œuvre de Véronique Tadjo et Isabelle Eberhardt."Africana: Figures de femmes et formes de pouvoirs. Paris: Classiques Garnier, 2021.
'Qu'est-ce que cela veut dire?' Poétique, théorie, et les fins du monde chez Claudel et Mallarmé." La Torre di Babele: Rivista di letteratura e linguistica, Università di Parma, 2021.
Gilets Jaunes, Macron's Presidency, and France's contradictions", Contemporary French Civilization, Vol 45.3-4, 2020, p. 393-402.
Claudel dans/pour l'avenir: Diplomatie, Économie, Éco-critique." Claudel aujourd'hui. Paris: Classiques Garnier, 2020, p. 363-374.
"Le poète et le philosophe: Bonnefoy, Badiou, et l'avenir de la poésie." Revue européenne de recherches sur la poésie, No. 4. Paris: Classiques Garnier, 2018, p. 65-80.
"Teaching Hélé Béji, Post-Colonialism, and the Arab Spring: Perspectives from Baudrillard, McClintock, Giroux." Rethinking the French Classroom: New Approaches to Teaching Contemporary French and Francophone Women. New York: Routledge, 2018, p. 111-119.
See CV for complete listing
Reviews & Interviews
Révolution au Paradis: représentations voilées de personnages juifs dans le cinéma de la France occupée. Jérusalem: Editions Elkana, 2014. 345 pp. By Yéhuda Moraly. Dalhousie French Studies, Revue d'Études Littéraires du Canada, vol. 119, 2021.
Passerelles. Poésie. Toronto: Canada Mediterranean Centre Éditions, 2018. 105 pp. By Hédi Bouraoui. Dalhousie French Studies, Revue d'Études Littéraires du Canada, vol. 118, 2021, p. 212-213.
"Entretien avec Hédi Bouraoui: altérité, nomanitude, interstice." The French Review, Vol. 93.1, October 2019, p. 173-186.
Historical Interplay in French Music and Culture, 1860-1960. London: Routledge, 2018. 270 pp. By Mawer, Deborah (ed.). Studies in Twentieth and Twenty-First Century Literature, vol. 43, Issue 2, 2019. https://newprairiepress.org/sttcl/vol43/iss2/40/
Approaches to Teaching Baudelaire's Prose Poems. New York: The Modern Language Association of America, 2017. 212 pp. By Cheryl Krueger (ed.). Dalhousie French Studies 113, 2018.
L'Œuvre impossible: Claudel, Genet, Fellini. Paris: Éditions le Manuscrit, 2013. 207 pp. By Yehuda Jean-Bernard Moraly. Studies in Twentieth and Twenty-First Century Literature, Vol. 40, Issue 1, Article 9, March 2016. https://doi.org/10.4148/2334-4415.1859
Proust's Latin Americans. Baltimore: Johns Hopkins University Press, 2014. 280 pp. By Rubén Gallo. Studies in Twentieth and Twenty-First Century Literature, Vol. 39, Issue 2, Article 12, Summer 2015. https://doi.org/10.4148/2334-4415.1826
See CV for complete listing.
College of Architecture, Arts and Humanities
College of Architecture, Arts and Humanities | 108 Strode Tower, Clemson, SC 29634