Japanese
The Japanese Program at Clemson University offers a B.A. in Modern Language, a B.A. in Language and International Business, and a Minor in Asian Studies and Japanese Language. Each semester approximately 140 students enroll in and study Japanese Language and Culture. Today's young Americans are fascinated by Japan as the 3rd largest economic super power and a leader in technology. Furthermore they fall in love with traditional and modern Japanese culture. Many graduates of our Japanese Program now work for both Japanese and American industries in Japan, Hong Kong, European countries and the United States.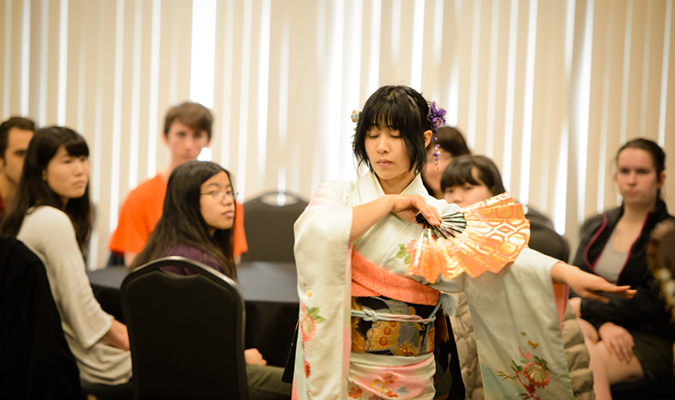 Why Japanese?
Japan has one of the largest economies in the world. Japanese language ability can be a valuable tool in business since Japan is closely tied to South Carolina's economy. Japanese-affiliated companies have invested $4.9 billion in South Carolina, where currently 147 Japanese-affiliated companies operate, including AFL Telecommunications, Bridgestone/Firestone, JTEKT, Honda of South Carolina, Hitachi Electronic Devices, Asahi Kasei Fibers, and Toray Industries. South Carolina's exports to Japan grew 12.4 percent from 2014 to 2015, increasing from $727 million to $1.8 billion, making Japan its 7th largest export market of South Carolina. Students' language skills will greatly help their careers after graduation. 
Students will also learn the Japanese culture covering subjects from literature, history, cinema, and business. Japan became a close US ally after the second world war, and Japan and the US have culturally influenced each other since. The relation is not restricted to our sheer admiration of the beauty of traditional Japanese cultures such as tea ceremony and Zen Buddhism but recently more direct relationships in the realm of popular media. The films of Akira Kurosawa gave inspiration to George Lucas's Star Wars and  John Sturges's The Magnificent Seven. More recently, the influence of Japanese animation (anime) on American cartoons and cartoon-based movie franchises cannot be ignored. By learning Japanese culture, students learn not just a distant culture of a foreign land but the dynamic interaction of what makes them different from us, which is constantly happening in our everyday experience when we deal with other cultures.
At Clemson University Japanese majors and minors, students can learn language and culture academically on campus and through live experience with various opportunities such as study abroad, summer programs, and internships. Clemson offers study abroad programs ranging from the urban settings in Nagoya to the more pastoral Fukui facing the Sea of Japan. Students can also experience an internship in Japan and with Japanese companies in South Carolina, which can change students' perspectives and open their minds up to so many more opportunities and career paths. 
Students' command of a language and culture will undoubtedly set them apart from graduates of other universities.
What Does It Offer?
1. Language Courses:
Japanese Language Courses from the 1000 to 4000 level, as well as courses taught in Japanese on Japanese Literature and Japanese for professional purposes. We also offer several content courses taught in English, including: Japanese literature in translation, Japanese culture, Japanese film and theater, and Japanese history.
2. Study Abroad Programs at Japanese Universities:
Clemson University has relationships with the following universities; Tokyo University (Engineering, Graduate level), Waseda University (Architecture, Graduate level), Fukui University, Nagoya University for Foreign Studies and Sophia University. In addition to these exchange programs, Clemson graduates can apply for a Monkasho scholarship, which is supported by the Japanese government, to pursue graduate studies in Japan.
3. Clemson University Japanese Cultural Association (CUJCA):
CUJCA is a student-run club open to all students. Activities include 日話会 Nichiwakai, the weekly Japanese conversation club, film festivals, and other activities held throughout the year. https://www.facebook.com/groups/CUJCA/ 
4. Clemson University Anime Manga Club:
Clemson also has a student-run anime and manga club that meets weekly.  
https://www.facebook.com/CUAnimeClub15/ 
http://frankfurthd15.wixsite.com/clemsonanime/
Department of Languages
Department of Languages | 717 Strode Tower, Clemson, SC 29634